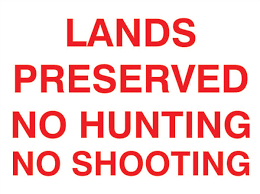 Legislation removing this month's deadline to register certain rights including rights of way and sporting rights with the Property Registration Authority (PRA) has come into effect.
The enactment of the Land and Conveyancing Law Reform Act 2021 today 30th November 2021 repeals a number of changes to the law on prescriptive easements and profits à prendre under the Land and Conveyancing Law Reform Act 2009, which were due to take effect from tomorrow, 31st November 2021.
Ministers announced in September that they would introduce a "short amending bill" to amend the 2009 Act amid concerns raised by the Law Society of Ireland and the Bar Council.
Previously, the law required prescriptive rights of way to be registered with the PRA by the end of November 2021, which lawyers warned could lead to a deluge of court cases to protect long-standing rights after the deadline.
Claims to validate or register a prescriptive right that are already pending before the courts or the PRA will continue to be decided as before the enactment of the 2021 Act.
New claims will largely be decided under the doctrine of lost modern grant that applied before the 2009 Act, though this is likely to change again in the near future following a more detailed review.
It will still be possible to confirm a prescriptive right, either by applying to court or by registering it directly with the PRA, but this will be optional, as it was before the 2009 Act.
Justice minister Helen McEntee said: "I'm delighted to welcome the timely enactment of this urgent Act. It averts a legal cliff-edge that was due to occur on 1st December, when major changes to the law on private rights of way, and other prescriptive rights, were due to come into effect.
"I know that those impending changes have been causing worry and stress to many people, with farmers and homeowners at risk of losing important rights that have been enjoyed for many years without dispute. This Act repeals those changes, and protects acquired rights and acquired years of use."
James Browne, minister of state in the Department of Justice, added: "The Land and Conveyancing Law Reform Act 2009 was a major piece of reforming legislation, which repealed a large number of outdated laws and concepts, and modernised much of our land and conveyancing law.
"However, after carefully considering the concerns raised by stakeholders about this particular chapter of the 2009 Act, it was clear that in this particularly complex legal area, the 2009 provisions were not working as intended.
"I am grateful to the Law Society and the Bar Council, in particular, for their work to highlight these difficulties. I would also like to thank all the stakeholders who worked with my Department to develop the provisions of the Bill, and the Attorney General for the valuable legal advice and drafting expertise provided."
Ms McEntee added: "The government has agreed to establish a time-bound review to identify any further changes that are desirable to ensure that this area of law is placed on a sustainable long-term basis.
"I hope that the review could start work early in the New Year, with a view to completing its work by the end of the summer."