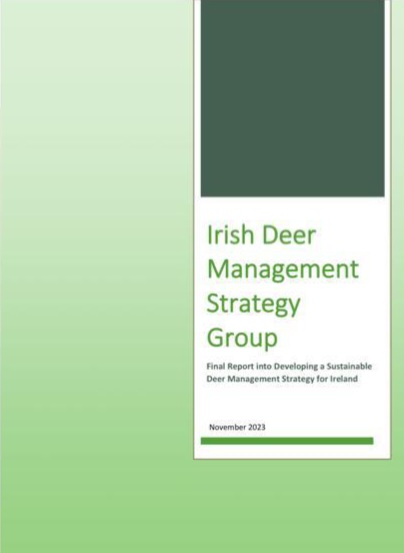 The Deer Management Strategy Group, established in 2022 to explore and initiate actions in relation to deer management policy across Ireland, published its "Final Report into Developing a Sustainable Deer Management Strategy for Ireland" on 7th December 2023.
In their 27-page Report, the Group has identified a series of short- and medium-term actions for implementation over time. These are:
Short Term (9 months)
1. Appointment of a program manager to set up deer management units with local coordinators
2. Program manager, in conjunction with Deer Management Strategy Group, to develop an
Implementation Plan
3. Set up Deer Management Units, in critical/hot spot areas initially, following on from
localised stakeholder meetings
4. Revise the deer Open Seasons Order to align with the current dates in Northern Ireland
in the first instance*
5. Investigate the feasibility of establishing a Deer Management Agency and research the
best model for such an Agency set-up
6. Investigate support incentives necessary for national deer management program
(including for Venison market)
7. Review of changes to Statutory Instruments and current legislation
8. Revision of the process of Section 42 licence applications under the Wildlife Acts to
ensure consistency of approach
Medium Term
1. Review the results of feasibility of setting up a Deer Management Agency
2. Secure changes to legislation following review of Wildlife Acts and other deer related
legislation
3. Monitoring of the impacts (on biodiversity, forestry, farming & road safety) arising from
Implementation Plan
4. Review Open Seasons Order again as required on foot of 3 above.
5. Engage with state bodies to develop a structured deer management policy on State
lands
6. Phased certification for all hunters over next 3-5 years
7. The integration of a deer management module into agricultural, forestry, land
management & environmental training courses
8. Review of forest design and scheme specifications in relation to deer management
*The current Open Season for male deer in Northern Ireland is from 1st August to 30 April, The current Open Season for female deer (all species) is from 1st November to 31st March. Seasons for red and sika includes each separate species and hybrids. Thee is no Close Season for Muntjac in Northern Ireland.
The Report has met with mixed reaction across the range of stakeholders, with both positive and negative aspects having been identified.
The full Report can be accessed HERE.