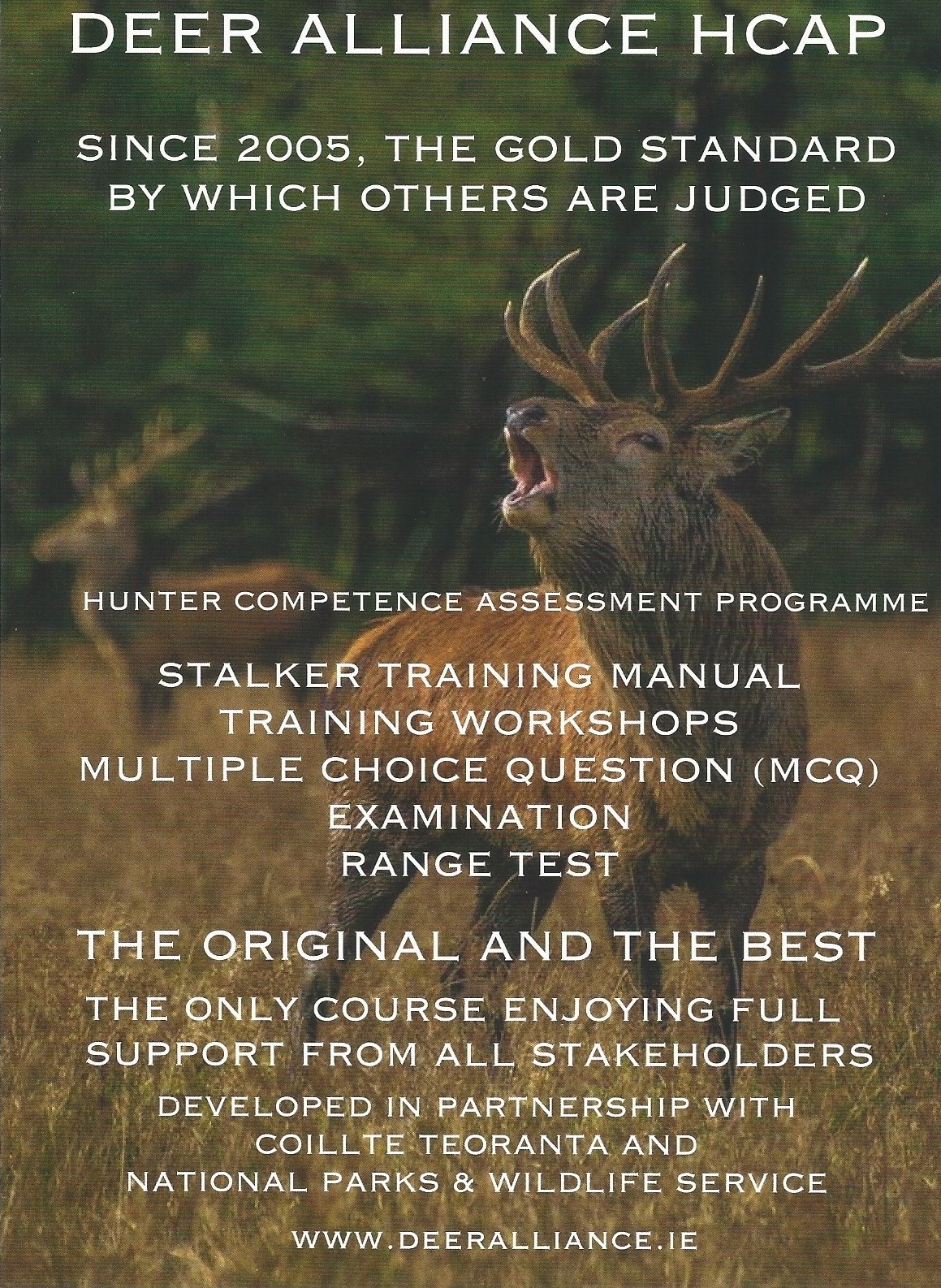 The 2022 Series of HCAP assessments concluded with a Training Workshop an MCQ on 29th October and Range Test on 5th November (the fifth in the 2022 Series), the results of which can be seen on an earlier posting here.
Plans for 2023 are now in hand, with the first Training Workshop and MCQ taking place early in March 2023, for which applications are now open.
Application can be made at any time through the Online Applications section of the Deer Alliance website. The cost of HCAP (Workshop, MCQ, Range Test and Certification) remains at €165.00. The Stalker Training Manual can be purchased in preparation for HCAP at a cost of €35.00 including p. & p., also through the Online Applications section of the website.
The venue for Workshops and MCQs remains the Woodford Dolmen Hotel, Kilkenny Road, Carlow, R93 N207, and Range Tests will continue to take place at the Midland Range, Blue Ball, Tullamore, Co. Offaly, R35 NC58.
Dates for these activities (and others) will be posted here early in the New Year.
HCAP Candidates who do not have access to their own deer-legal rifle have two options open to them. If they have a friend who has a deer-legal rifle and is prepared to let the candidate use that rifle for the Range Test, that is permitted, provided that the friend holds a valid Firearm Certificate for the firearm in question, holds valid shooting insurance and is present with the Candidate on the Range at all times.
Alternatively, the candidate can avail of a Club Rifle, usually in calibre .308, available from the Management of the Midland Range. Booking must be made at least two weeks in advance and is subject to Garda vetting. The current cost of rifle hire is €60.00, to include ammunition sufficient for the standard Range Test.
Candidates with no previous experience of full-bore rifle shooting may be required to undertake basic tuition and competency testing on a one-to-one basis at the Midland Range (to include the Range Test Course of Fire but not as part of the Range Test), the current cost of which is €150.00 (one person, one day tuition and test preparation).
Hire of a Club rifle and/or arrangements for tuition and test preparation, including all costs, are entirely a matter between Midland Range management and personnel, are outside the ordinary HCAP process and Deer Alliance HCAP has no responsibility or obligation in this regard.
Membership of IFA Countryside carries with it the shooting insurance required for the purposes of the HCAP Range Test, and may also offer subsidised training opportunities, including HCAP.
Deer Alliance HCAP remains the only such training and certification process developed in full partnership with Coillte Teoranta, National Parks & Wildlife Service, Forest Service, An Garda Siochana and other key stakeholder organisations and in 2023 enters its twentieth year of operation, with over 3600 licensed deer hunters having participated in HCAP to date.