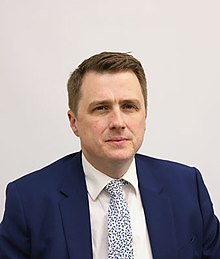 Minister Charlie McConalogue

Minister Darragh O'Brien
Minister for Agriculture, Food and the Marine Charlie McConalogue T.D and Minister for Housing, Local Government and Heritage Darragh O'Brien T.D, recently jointly launched a new public consultation to inform the next phase of the development of the Deer Management Strategy.
The purpose of the consultation coordinated by the Deer Management Strategy Group is to gather views on key issues relating to deer management in Ireland, the impact of increased deer numbers on a variety of issues such as forestry, biodiversity, road safety, animal health and welfare and the welfare of the deer themselves.
The Deer Management Strategy Group is chaired by Teddy Cashman and was convened in 2022 to continue the work of the Irish Deer Management Forum (IDMF). Information as to other members of the Group has not to date been made available despite a request having been made to Minister McConalgue's office.
Although never formally dissolved. the IDMF has not met since March 2018 and its re-convening has been called for repeatedly by a number of concerned stakeholders since 2018. The IDMF itself was established in 2015 following a round of public consultations commencing in 2011, during which up to 100 considered submissions were delivered by multiple affected stakeholders, leading to the publication of "Deer Management in Ireland – Framework for Action", the contents of which remain valid for a majority of stakeholders but very few of which recommendations have yet been adopted.
The Deer Management Strategy Group are now requesting the views of all stakeholders with the aim of creating a sustainable and effective deer management strategy for both now and for the future. The consultation takes the form of an online survey under different headings, including Impacts, Solutions, Constraints, and Barriers.
Participants may find many of the questions set out in the Survey leading in their nature but have the opportunity of submitting their own more detailed submissions by delivering fuller opinions to either or both Ministers by the deadline for submissions.
Interested individuals, groups or organisations can share their views on deer management in Ireland by completing the online survey HERE.
Closing date for submissions is 5.00 p.m. on Friday, 10 February 2023.