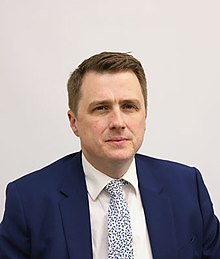 JAMES BROWNE TD, MINISTER OF STATE AT THE DEPARTMENT OF JUSTICE, WHO HAS ESTABLISHED THE FIREARMS EXPERT COMMITTEE WITH THE OBJECTIVE OF REVIEWING FIREARMS LEGISLATION IN IRELAND AND MAKING RECOMMENDATIONS ARISING FROM THAT REVIEW
SHOOTING GROUPS COME TOGETHER TO PROTEST THEIR CONCERNS AT PROPOSED "FIREARMS EXPERT COMMITTEE" STRUCTURE AND MAKE-UP
BACKGROUND
The establishment of a five-person "Firearms Expert Committee" was announced by the Department of Justice on 24 th June 2022 on behalf of James Browne TD, Minister of State at the Department of Justice.
The establishment of such a body was first proposed in media interviews by Minister Browne in
September 2021 and confirmed in the document, Justice Plan 2022, published in March 2022
(paragraph 35, page 15 of that document).
The terms of reference for the Committee were later stated as:
1: To carry out an assessment of all types of firearms which are currently licenced in the State
2: To determine their use under the existing licensing system.
3: To make recommendations based on this assessment on which types of firearms should be
licensable in the State and for what purposes.
3: To consider whether firearms certificates should be conditioned to specify the locations where the firearm may be used.
4: To consider whether firearms certificates should be conditioned to limit the use of the firearm to the purpose for which the firearms certificate was sought.
5: To consider whether there should be a limit on the number and type of firearms a person may hold.
6: To make recommendation on other matters that might be examined in the future.
7: To provide a report or reports containing recommendations on these matters to the Minister
8: To examine any other firearms licensing matter or carry out any other relevant task the
Minister considers appropriate during the Committee's term.
Expressions of Interest in appointment to the Committee were invited early in April 2022, with a
closing date of 29th April 2022. Two places on the Committee were allocated in advance to
representatives of An Garda Síochána and the Department of Justice respectively, with expressions of interests invited in respect of the position of Chairperson and two individual members. According to the Department of Justice, in total, fourteen applications were received for the position of Chairperson and thirty-four for the position of Ordinary Member.
Having regard for the make-up of the Committee as announced on 24 th June, the Firearms Users Representative Group, on behalf of its participating member groups, are deeply concerned at the fact that the community of shooting and hunting enthusiasts which their participating members represent is largely unrepresented.
There is no doubt that firearms legislation in Ireland is overdue for review and consolidation. There are eleven Acts of the Oireachtas, thirty-one Statutory Instruments and three EU Directives governing the possession, user and carriage of firearms in Ireland. Firearms legislation in Ireland is widely regarded by many as the most restrictive in Europe and differs significantly from the procedures and protocols applicable in other Member States of the European Union. According to available sources, with an estimated 235000 legally-held firearms in use across an estimated 150000 to 175000 individual owners, while gun ownership in Ireland is less than one-third of the average level of ownership across the majority of EU Member States. Meanwhile, gun crime is largely restricted to a criminal underworld, which will remain unaffected by firearms legislation, current or proposed. Gun crime involving licensed firearms owners is limited to a very small number of isolated cases with specific surrounding circumstances. Criminals will always have access to firearms, with none of the restrictions applicable to the law-abiding sporting shooter.
OUR CONCERNS
The deep concern felt by the Firearms Users Representative Group relates to the complete lack of representation of sporting shooters on the new Committee, and the fact that the wide-ranging terms of reference of the Committee are likely to have implications for owners of sporting firearms across a range of shooting disciplines. There is no provision for consultation with sporting shooters, no provision for access to Minutes of meetings of the Committee, or to review or comment on any recommendations of the Committee.
By his action in establishing the FEC in the form proposed and without open consultation with all stakeholders, the Minister has done something unique here, he has united all users of firearms into a cohesive grouping, which never has never happened to this level before. The Firearms Users Representative Group is a fully inclusive and a fully representative voice for firearms users across the widest range of shooting disciplines.
CALL ON MINISTER TO RECONSIDER MAKE-UP OF FIREARMS EXPERT
COMMITTEE AND TO ENSURE PROPER REPRESENTATION OF FIREARMS USERS
In these circumstances, the Firearms Users Representative Group and its participating organisations have at best a limited confidence in the Committee and at worst, a highly guarded response to its establishment. We now call on Minister of State James Browne TD to reconsider the make-up of the Committee, to enlarge its base and to ensure full and proper representation of sporting shooters across the range of shooting disciplines embodied by the Firearms Users Representative Group, or alternatively put a system in place where this Group is fully consulted at all stages of this process, and nothing is produced for implementation without consultation and agreement with the Firearms Users Representative Group.
FURG has written to the Minister of State at the Department of Justice James Browne TD expressing the above concerns and await his response.
Spokespersons for the Firearms Users Representative Group:
Dan Curley, 086 2328 356, Email: chairman@nargc.ie
Liam Nolan, 086 1927 845, Email: lmnolanbl@gmail.com
Member Organisations: National Association of Regional Game Councils, FACE Ireland
(representing 14 fieldsports organisations), Irish Deer Society, Irish Deer Commission, Wild Deer
Association of Ireland, Deer Alliance HCAP, Countryside Alliance (Ireland), Country Sports Ireland, Midlands National Shooting Centre of Ireland, Irish Firearms Dealers Association, Irish Clay Target Shooting Association, National Association of Sporting Rifle & Pistol Clubs, Irish Country Sports Association, Precision Rifles Ireland.
(A number of other organisations are considering joining, and are awaiting the approval of their
respective boards of management)