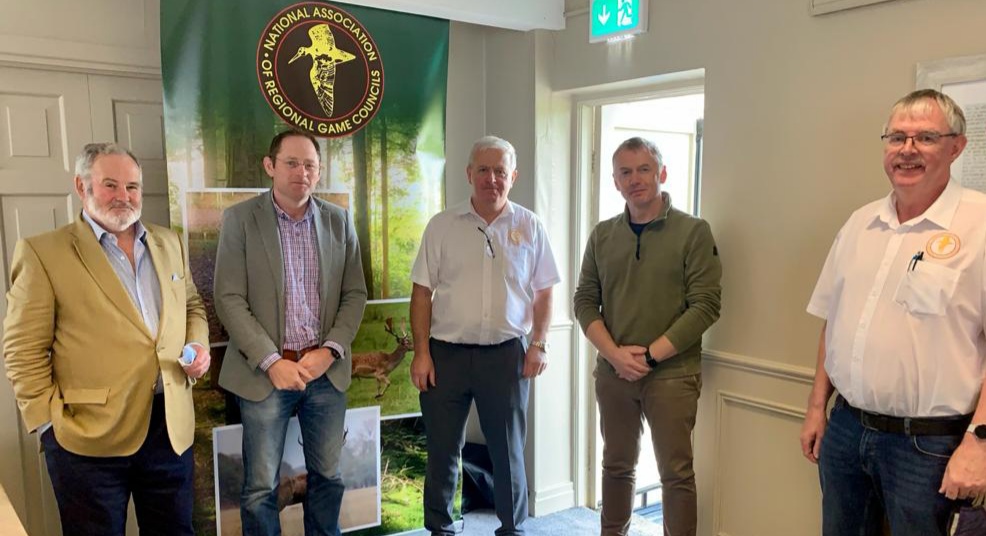 Liam Nolan (Deer Alliance HCAP), William Shortall (IFA Countryside), Dan Curley (Chairman, NARGC), Damien Hannigan (Irish Deer Commission) and John Butler (NARGC, Co-ordinator of the Course held on 11th September 2021)
Approximately 30 HCAP-Certified hunters, IFA Countryside members and NARGC members attended the NARGC Safe Game Meat Handling Course held in the Bloomfield House Hotel, Mullingar, on Saturday 11th September 2021.
Scheduling of the course was an initiative of IFA Countryside, facilitated by the NARGC, and was a welcome extension to learning for deer stalkers.
The day was well organised and participants had the benefit of an excellent presentation by Jim Walsh MRCVS, author of the course manual, "Safe Handling of Wild Game Meat", sponsored by the NARGC.
Social distancing and full compliance with Covid-related guidelines were observed throughout.
The day concluded with the 50-question MCQ examination leading to satisfactory completion and certification, no doubt eagerly awaited by all candidates.