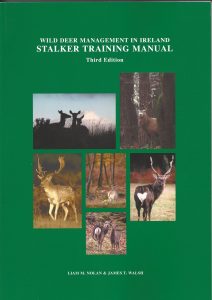 The Deer Alliance Stalker Training Manual is available for purchase by Candidates for HCAP assessment and certification. To purchase the Manual go to Online Applications on the Home Page of the Deer Alliance website.
Cost €35.00 including post & packaging.
The Stalker Training Manual is an invaluable guide to best-practice approaches to deer management and deer control in Ireland, covering principles of deer management, basic deer biology, Red deer, Sika deer and Fallow deer, deer stalking aids and techniques, rifles, ballistics and zeroing, firearms safety, deer hunting and the law, carcase handling and disease recognition, forestry and deer, impacts of deer on nature conservation habitats and many other topics in detail, over 160 well-illustrated pages.