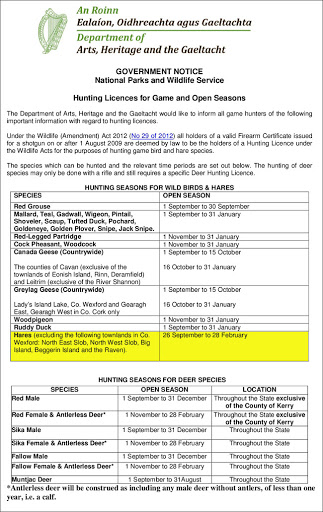 Deer Alliance HCAP has received numerous inquiries in recent days from licensed hunters who have not yet, as of today 31st August 2020, received their Deer Hunting Licence for the Season 2020-2021, which commences tomorrow 1st September 2020. This is despite the undertaking made by NPWS given subsequent to commencement of the Covid 10 lockdown, that applications received by 30th June 2020 would be issued before 1st September 2020.
The Wildlife Licensing Unit of NPWS are grappling with the difficulties generated by the lockdown and arising from limitations on resources needed to handle an ever-increasing volume of applications.
Deer Alliance HCAP has now called on the WLU to confirm that all valid DHLs for the Season 2019-2020 will be extended pending issue of licences for 2020-2021. This would be in line with precedent set for extensions of regulatory licences such as driving licences, NCTs and other regulatory controls. We have suggested that WLU and NPWS make an appropriate statement immediately so as to forestall any question of turning legal hunters into illegal hunters, by reason of the WLU's inability to meet demand for processing of valid applications.