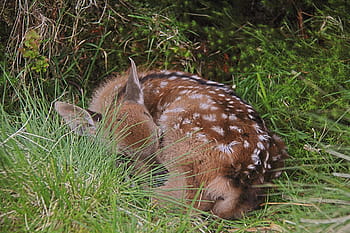 Sika calf. Most calves art born from early June to mid/late July, with fallow calves born a short while later than sika or reds. Calves found in the wild should be left undisturbed, they have very seldom, if ever, been abandoned. The mother deer leaves the very young calf alone for a lot of the day, returning periodically to feed and nourish the calf.
The next event in the 2023 Series of Deer Alliance HCAP Workshops, MCQs and Range Tests will take place on Saturday 12th August 2023, at the Woodford Dolmen Hotel, Kilkenny Road, Carlow, Co. Carlow, R93 N207 (10.00 a.m. to 5.00 p.m.). The supporting Range Test will be held on Saturday 26th August 2023 at the Midland Range, Blue Ball, Tullamore, Co. Offaly, R35 NC58.
Applications are now open for this HCAP event, the third in the 2023 Series. Application can be made online through the Deer Alliance website, www.deeralliance.ie, with payment through PayPal, using any valid debit card or credit card. Application can also be made in hard copy, by post, to the address shown on the current downloadable application form.
APPLICATIONS FOR THIS EVENT ARE NOW CLOSED
The cost of HCAP (Training Workshop, MCQ, Range Test and Certification) is unchanged and remains at €165.00.
In preparation for HCAP, candidates are recommended to study the Deer Alliance Stalker Training Manual thoroughly in advance. The Manual is available for purchase through the Online Applications section of the website, costing €35.00 inc. p. & p.
Members of IFA Countryside can avail of a special discount price of €120.00 (covering HCAP Application, Stalker Training Manual, Workshop, MCQ, Range Test and certification), generously subsidised by IFA Farm Business Skillnet. New and intending members of IFA Countryside should call 0818 924 982 or 01 426 0368 for membership information, which includes insurance cover for all hunting and other countryside activities, compliant with requirements for the HCAP Range Test.
Certification is now mandatory for all first-time applicants for a Deer Hunting Licence. HCAP is the only training programme in Ireland developed in partnership with Coillte Teoranta, National Parks & Wildlife Service, An Garda Síochána and all principal deer organisations. HCAP entered its twentieth year of operation in 2023 and to date approximately 3600 licensed deer hunters have participated in the programme. Enquiries by email to deeralliance@gmail.com or by 'phone to 086 1927 845 (office hours).
ELIGIBLE CANDIDATES
The following candidates are eligible to participate in this Training Workshop & MCQ:
ABDELMONIEM, Ayman
BYRNE, Ciaran
CASE, Neville
CLIFFORD, Alan
COX, Brett Fitzgerald
DEMPSEY, James
DICKER, Johnny
FLYNN, Declan
GILLESPIE, David
HEAVEY, Desmond
HENRY, Robert
KANE, Patrick
KELLY, Robert
LANCASTER, Samuel
McCARTHY, Sean
MURPHY, James
O'BRIEN, Jason
O'LEARY, Anthony
O'MALLEY, Frank
O'TOOLE, Patrick
RUST, J. P.
SAVAGE, Sean
STUART, Charles