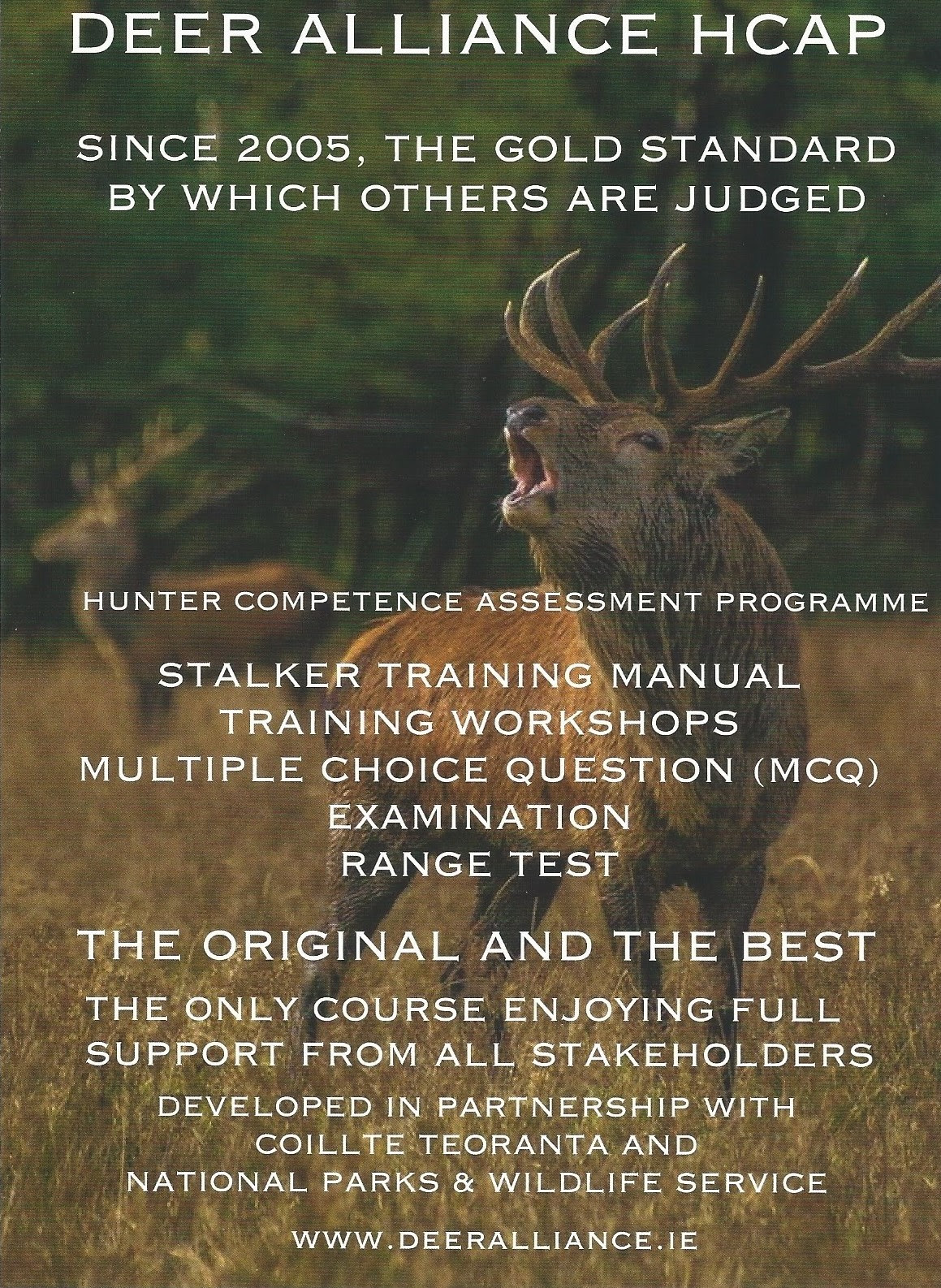 Bookings are now open for the next scheduled HCAP Training Workshop & MCQ, which will take place on Saturday 23rd April 2022 at the Woodford Dolmen Hotel, Kilkenny Road, Carlow, Co. Carlow, R93 N207 (10.00 a.m. to 5.00 p.m.), followed by the Range Test at the Midland Range, Blue Ball, Tullamore, Co. Offaly on Saturday 21st May 2022.
Application can be made online through the website, cost €165.00, with payment through PayPal using any valid debit card or credit card (applicants do not need their own individual PayPal account). Application can also be made by post with payment by cheque, bank draft or postal order payable to Deer Alliance. An application form with address details can be downloaded from the homepage of the website. The Deer Alliance Stalker Training Manual can also be purchased through the website, cost €35.00 including p. & p.
Members of IFA Countryside can avail of a special discounted HCAP Fee of €120.00 (generously subsidised by IFA Farm Business Skillnet), when they book through IFA Countryside.
ELIGIBLE CANDIDATES
ANHOLD, Heinrich
ARCZYNSKI, Adam
ARMSTRONG, Robert
BEWICK, Stuart
BLAZEVIC, Zeljko
BUCKLEY, Gavin
BURKE, Hugh
BYRNE, Brendan
CARROLL, Simon
CORR, Francis
CUDDEN, Ryan
CULBERT, Trevor
CUNNINGHAM, Niall
ELLIS, Anthony
FALLON, Brian
FARRELL, Gavin
FENTON, Darren
FERGUSON, David
FINN, John
FOLEY, Ian
HARVEY, Stephen
HEALY, John
KELLY, Alex
LAWLER, Ian
MURPHY, David
O'FARRELL, Richie
ORAGANO, Paul
SHERIDAN, Stephen
SLUDDS, Enda
SMYTH, Fred
SZCZEPANIEC, Artur
THOMPSON, Tom
TURNER, Graham
This list will be updated as applications are received. Last update, 19.4.2022
APPLICATIONS FOR THIS WORKSHOP & MCQ WILL CLOSE AT 1800 HOURS ON THURSDAY 21st APRIL 2022