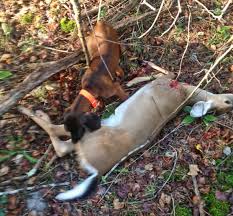 Attention is drawn to the provisions of the Wildlife (Amendment) Bill 2015, Number 8 of 2015. This is a Private Members's Bill, sponsored by Deputy Clare Daly. It was introduced in Dail Eireann on 4th February 2015.
The full text of the Bill can be viewed at www.oireachtas.ie/documents/bills28/bills/2015/815/b815d.pdf.
Section 4 of the Bill provides as follows:
Prohibition on hunting deer with a dog or dogs
 4. The Principal Act is amended in section 23A (inserted by the Act of 2010) by the
substitution of the following for subsection (2):
 "(2) A person who hunts deer with a dog or with two or more dogs shall be
guilty of an offence".
Clearly this provision has implications for persons including licensed and qualified hunters who, in line with best practice, use trained tracking dogs to follow and find wild shot deer – as indeed is a requirement under the conditions of the standard Coillte licence.
Representations in this regard will be made to the Bill's Sponsor and other parties in due course.