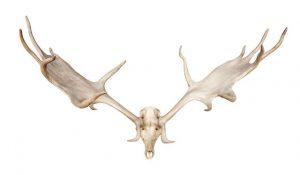 Megaloceros giganteus
The above pair of Giant Irish Deer antlers was sold for £31312.00 (€36305.00) inc. premium at Bonham's Sporting Sale held in Edinburgh on 1st May 2019
(click on images to enlarge)
This example, with 18 points and skull, (restorations), measured 224 cm wide, 126c m deep, 87 cm high (88 in wide, 49 1/2 in deep, 34 in high) and came from the Collection of the Late Sir Sidney & Lady Nolan at The Rodd, Presteigne, North Wales.
Description from the Bonham's Catalogue: "The 'Irish Elk' or Giant Deer lived during the Pleistocene Period of the Great Ice Age (starting 2.6 million years ago and ending 11,700 years ago). Now extinct, the Irish Elk is one of the largest deer that has ever lived.
The Giant Deer stood around 2.1mtrs tall at the shoulders, carrying antlers weighing up to 40kg and spanning up to 3.65 mtrs. Whilst called the 'Irish Elk', the species is neither exclusively Irish – or even an elk but probably related to Red or Fallow deer. While the majority of the skeletons have been found in Ireland, their habitat was vast, spreading across Europe, Africa and China. The name itself stems from the fact that most of the remains have been found in the marl underlying bog of Ireland.
There are numerous theories regarding the extinction of the species – over-hunting by humans, as well as loss of habitat and vegetation due to climate change at the end of the last Ice Age are both cited as potential causes. Alternatively, it has been suggested that the antlers themselves became so large that they leached minerals and calcium from the animal's bones, effectively causing what we know as osteoporosis".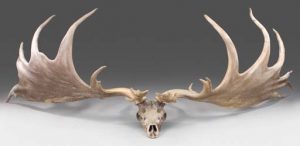 Powerscourt Head (largest known sold at auction)
The largest known pair sold at auction, described as "The Property of a Gentleman",  measured 292cm wide, and came from Powerscourt, Enniskerry, Co. Wicklow (sold at Christie's, London, 14 June 2001, for Stg£52875.00 (€61543.00). Described as "with fifteen points and skull, restorations, five points with restored breaks, one antler with restored break near the skull, span: 115 in. (292 cm.); 41 in. (104 cm.) high; 48 in. (122 cm.) deep (2). Provenance: By repute, excavated from a bog near Limerick. The Viscounts Powerscourt, Powerscourt, Enniskerry, Co. Wicklow. Originally sold by Mr. and Mrs. Ralph Slazenger of Powerscourt at a Christie's house sale on 24-25 September 1984.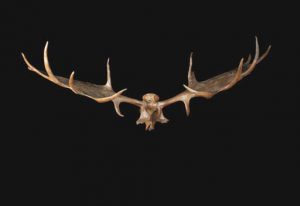 Sir Robert Peel's "Cervus Giganteus"
A pair with fifteen points and with skull was sold at Christie's of London on 6th April 2000 for Stg£47000.00 (€54728.00), described in their catalogue as "on an oak shield inscribed 'Cervus Giganteus, Presented by the People of Ireland to Sir Robert Peel, Bart. With restorations, one point replaced in horn 40½ in. (103 cm.) high; 112½ in. (286 cm.) wide; 39 in. (99 cm.) deep (2).
Given to Sir Robert Peel, 2nd Bt. (1788-1850) Chief Secretary to Ireland 1812 – 1818, by the people of Ireland"
Another pair originally belonging to the Cobbe family of Newbridge, Co. Dublin was sold anonymously, also by Christie's in London on 10th April 2003, for Stg£57360 (€66805.00).
The pair below, with approximate span 290 cm. sold in Adam's, Dublin, on 11th October 2016 for €17000.00.