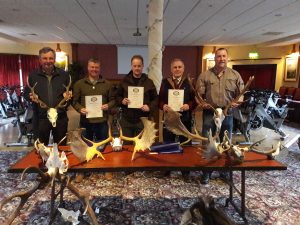 Irish Trophy Commission Accredited Head Measurers Pat Scully, Peter Gregory, John Clooney, John Manley and Jonathan Murphy (click to enlarge)
The Irish Trophy Commission recently inducted a number of newly Certified and Accredited Head Measurers following a Training Day held in Laragh, Co. Wicklow on Saturday 2nd March 2019.
The Deer Alliance supports the evaluation of trophies as a by-product of clear aims and objectives of a successful deer management program based on establishing a healthy, sustainable population.
HCAP-Certified hunters who wish to have heads evaluated and possibly leading to certification as Platinum, Gold, Silver or Bronze Medal heads can contact the Irish Trophy Commission by email at irishtrophycommission@gmail.com.
Below: Liam Nolan and Liam McGarry (Deer Alliance HCAP) with Joe Murphy (Irish Trophy Commission) and newly inducted Measurers Peter Gregory, John Clooney and John Manley (click to enlarge)