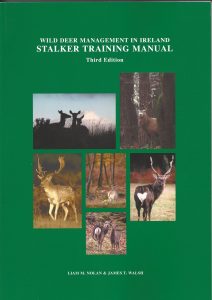 The Deer Alliance Stalker Training Manual, on which the MCQ is based, is an optional purchase, cost €35.00 inc. p. & p. The Manual can be purchased through the Online Applications section of the Deer Alliance website.
The first HCAP MCQ in the 2019 Series will take place on Saturday 9th March 2019 (3.30 p.m.) in the Ionad Dara Community Centre, Chapel Street, Goresbridge, Co. Kilkenny (eircode R95 D654). The Range Test for successful candidates from this MCQ will take place on Saturday 4th May 2019 at the Midland National Shooting Ground, Blue Ball, Tullamore, Co. Offaly from 10.00 a.m.
APPLICATIONS FOR THIS HCAP MCQ ARE NOW CLOSED.
CANDIDATES UNABLE TO PARTICIPATE ON 9th MARCH 2019 WILL BE AUTOMATICALLY CARRIED FORWARD TO THE NEXT SCHEDULED MCQ, THE DATE OF WHICH WILL BE FIXED AND NOTIFIED HERE IN DUE COURSE, AS SOON AS CONFIRMED.
ELIGIBLE CANDIDATES:
Burke, Brian
Burke, Ronan
Breslin, Charles
Byrne, Brian Patrick
Byrne, Michael
Casey, John
Condren, Sean
Corcoran, Jonathan
Dalton, John
Davitt, Michael
Delaney, Conor
Douglas, Conor
Durnin, David
Edge, Robert
Flaherty, James
Hall, Kenneth
Heffernan, Clive
Holmes, John
Hussey, Fergus
Jackson, Greg
Kavanagh, Richard
Kelleher, Jason
Kelly, Gavin
Kirby, Colm
Lucas, Nik
Lucas, Timothy
Mackevicius, Arunas
Mahon, Sean
Martin, David
McDaid, Patrick
Moore, Ordhran
Mullen, Gary
Mulligan, Padraig
O'Toole, Niall
Quinlan, Ken
Robertson, Drew
Sweeney, John
Tice, Patrick
Toomey, Ian
Venables, Aaron
Webbon, Peter
Whelan, John
Yavtushenko, Valeriy
The MCQ will be supported by an optional Training Workshop, running from 10.00 a.m. to 3.00 p.m. on the same day as the MCQ (same venue). Bookings for the Workshop can be made by text message to 086 1927 845 or by email to deeralliance@gmail.com. Payment €50.00 is to be made on the day.