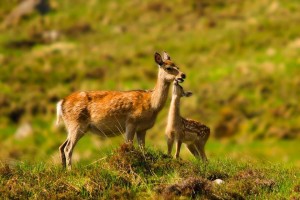 Summer scene – Sika hind and calf
(Click to enlarge)
The next HCAP MCQ in the 2019 Series will take place on Saturday 22nd June 2019 (3.30 p.m., preceded by an optional Training Workshop, 10.00 a.m. to 3.00 p.m.).
Applications can be made online (Online Applications from the Home Page), with payment €165.00 through PayPal using any valid debit card or credit card. The Deer Alliance Stalker Training Manual, a unique resource for HCAP Candidates, is available for purchase also through the Online Applications section of the website, cost €35.00.
Further details will be posted here shortly.