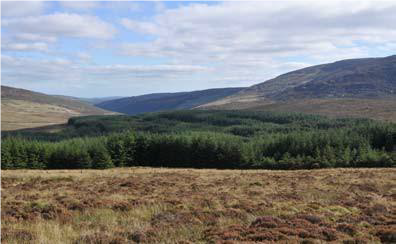 Report by Joe Mag Raollaigh, Agriculture and Consumer Affairs Correspondent, RTE, 21st February 2023
The Government aims to increase forest cover to 18% of land by 2050. The percentage of land in Ireland under forestry has reached 11.6%, according to figures compiled for the National Forest Inventory survey for the Department of Agriculture Forestry and Food. Broad-leave trees account for 30.6% of forests and conifers amount to 69.4%. The Government aims to increase forest cover to 18% of land by 2050.
The current increase is a result of active afforestation and the natural development of forestry, it added. Ireland now has a total of 809,000 hectares under trees, compared with 698,000 hectares in 2006 and for the first time just over half of the country's forests are in private ownership, mainly that of farmers. Overall, the national forest estate stores 323.5 million tonnes of carbon and provide a rich resource for biodiversity. The survey finds forests appear healthy overall, although some show sign of damage from animals, competing vegetation, exposure and nutrient deficiency.
The Government's new forestry programme worth €1.3 billion over a number of years aims to continue to increase forest cover year-on-year and is mainly targeted at farmers, who can access annual premium payments for 20 years, the rates of which have risen by up to 66%. The National Forest Inventory records and assesses the extent and nature of Ireland's forests, both public and private. Minister of State with responsibility for Forestry Senator Pippa Hackett has welcomed the findings from the survey.
"Overall we are seeing that the national forest estate is still expanding and has now reached 11.6% of the total land area, with a wide variety of forest types present," she said.
"The increase in area is a result of afforestation and the natural development of semi-natural forests on areas such as those previously used for industrial peat extraction.
"Between 2006 and 2022 semi-natural forests are responsible for one-third (33.1%) of the new forest areas captured.
"I'm also pleased to note that the share of broadleaf species in the national forest estate now stands at 30.6%, an increase of 5.9% since the first NFI results were published in 2006, and we have designed the new incentives for broadleaf planting in the Forest Strategy Implementation Plan to drive this figure further."
(Report ends).
COMMENTARY
Government plans for a significant increase in forest cover has implications for wild deer throughout Ireland, as increased forest cover means increased shelter habitat for deer. Conversely, increased habitat means increased deer, and potential for increased deer damage especially to new forestry. It is also significant that over half the land under forestry is now in private ownership, as opposed to State ownership under Coillte Teoranta. This suggests an increasing opportunity (and need) for efficient management of wild deer by hunters working in collaboration with private landowners to achieve safe, efficient, humane and sustainable control of deer by qualified HCAP-Certified hunters.