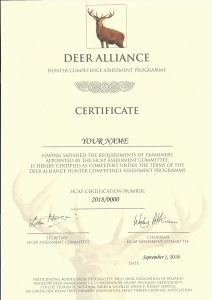 This HCAP Certificate could be yours!
(Click to enlarge)
The first Deer Alliance Hunter Competence Assessment Programme (HCAP) MCQ of the 2019 Series will take place on Saturday 9th March 2019 at 3.30 p.m. in the Ionad Dara Community Centre, Goresbridge, Co. Kilkenny. Applications are now open and can be made through the Online Applications section of the Deer Alliance website, www.deeralliance.ie.
The MCQ (50-question Multiple Choice Question written examination) take 50 minutes to complete and will be followed in May by the Range Test stage of the process, which takes place on Saturday 4th May 2019 (commencing at 10.00 a.m. sharp) at the Midland Range, Blue Ball, Tullamore, Co. Offaly.
HCAP cost remains fixed at €165.00.
The MCQ will be supported by an optional Training Workshop, running from 10.00 a.m. to 3.00 p.m. on the same day as the MCQ (same venue). Bookings for the Workshop can be made by text message to 086 1927 845 or by email to deeralliance@gmail.com. Payment €50.00 is made on the day.
The Deer Alliance Stalker Training Manual, on which the MCQ is based, is an optional purchase, cost €35.00 inc. p. & p. The Manual can be purchased through the Online Applications section of the website.
Hunters are reminded of the Ministerial commitment "to consider the introduction of an appropriate training and certification process for first time applicants for deer hunting licences to commence from a date which will be determined in due course but certainly no later than 2020".
The Minister's full statement on certification for licensed deer hunters can be found on the NPWS website (click here).
Certification will be required for the grant of a Deer Hunting Licence (DHL) on private land as well as on Coillte forest property, on which it has been mandatory since 2005. The effect of the Ministerial commitment is that certification will become mandatory for all first-time DHL applicants this year (2019), and for all existing holders of the DHL from a date to be fixed.
Approximately 50% of all existing licensed deer hunters (holders of the DHL) are HCAP-Certified.