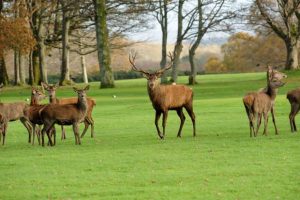 Killarney Red Deer (photograph by Michelle Cooper Galvin). Click to enlarge.
The newly-formed Irish Deer Commission joins the ranks of bodies dedicated to the best-practice management and conservation of wild deer in Ireland and invites membership applications, click here or here.
For recent commentary from the IDC's Damien Hannigan on the proposed "significant" planned cull of red deer in Killarney National Park, click here.
The IDC will host a Rut Walk and Wildlife Photography talk in Killarney National Park to watch one of nature's amazing spectacles, the annual Red Deer Rut which has taken place continuously in Kerry for over 6,000 years. This event is hosted by National Parks and Wildlife Service and is free of charge The walk takes place at the peak of the Red deer rut on Sunday October 14th 2018. Further information on the IDC website and pre-booking is advised.
Meanwhile, the Irish Deer Society is the longest-established deer organisation in Ireland and also invites support. For more information, click here.
The Wild Deer Association of Ireland also invites membership. Click here to learn more or email secretarywdai@gmail.com (postal address PO Box 67, Kinsale, Co. Cork), or 'phone 087 687 8228.