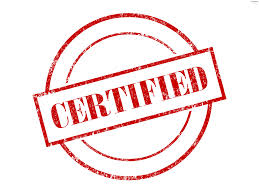 HCAP-CERTIFIED CANDIDATES 4th AUGUST 2018
The following Candidates (13 total) are deemed to be HCAP-Certified following successful completion of their HCAP Assessment after the Range Test held on 4th August 2018 (names, followed by HCAP Number).
Date of Certification: 4th August 2018.
Adamus, Lukasz, 2018/0100
Barry, James, 2018/0117
Burke, Conor, 2018/0113
Butler, Brian, 2018/0114
Brennan, Gary, 2018/0121
Cherek, Marcin, 2018/0118
Dallaghan, Maurice, 2018/0069
Fenton, Roland, 2018/0107
Kecskes, Zoltan, 2018/0120
Lambert, Kevin, 2018/0111
Leskovics, Aldis, 2018/0119
Murphy, Robert, 2018/0116
Ó Conchubhair, Nick, 2018/0109
All Candidates in attendance were successful on this occasion and were presented with their HCAP Certificates, ID Cards and Badges at the conclusion of their successful Range Test. A high standard of marksmanship was evident from all candidates. Thanks go to HCAP Range Officers Pat Scully and Liam McGarry for their able administration of the Range Test, also to Tony Saunders and all at Midland National Shooting Centre of Ireland for their usual very professional management of the Test on the Range.
This Range Test was the last in the 2018 Series. HCAP Assessments are not conducted during the Open Season, September to February inclusive. Applications received during this period will be listed for HCAP in 2019, commencing in March. Dates for MCQs and Range Tests will be announced here in the New Year.
Candidates who were No-Shows on this occasion will be carried forward to the next scheduled Range Test in 2019, except where they have missed two or more Range Tests, in which cases they are automatically de-listed as eligible and can complete their HCAP only on payment of the standard HCAP Repeat Fee (€50.00).