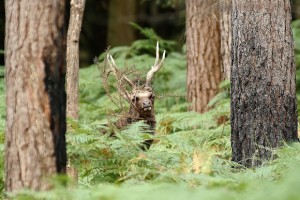 Licensed deer hunters will be aware that again this year, there is a delay in the issue of Deer Hunting Licences (DHLs). The issuing authority, National Parks & Wildlife Service (NPWS) earlier this year requested applicants for DHLs for the 2016-2017 Season to make application by 30th June to ensure issue of licences in time or the opening of the Season on 1st September 2016.
However there is a discernible problem with the suggested deadline, insofar as 30th June was the date by which rents on Coillte licensed properties fell due, and the date towards which most individual and group licensees worked in terms of finalising their stalking ground for the Season. Coillte's payment deadline was then followed by a second round of tenders, which many stalkers looked to for their stalking. Coupled with these factors is the fact that NARGC Compensation Fund Membership, which many stalkers rely on as evidence of insurance in compliance with requirements, runs from 1st August to 31st July each year, and as a consequence NARGC Membership Cards were not available until August. Coillte will not issue Permits, needed by many to support their application for the DHL, until they receive up-to-date evidence of insurance covering the Season through to the end of February.
Arising from these circumstances, there is now what has been described as a massive logjam in the issue of DHLs and anecdotally, many applicants may not receive their licences until well into October, or later.
Meanwhile Coillte have today 29th August 2016 issued a statement in response to enquiries made. The Coillte position is as follows:
"If any individual enters onto Coillte lands to hunt deer without a valid DHL they are doing so illegally, contrary to the Wildlife Acts, and therefore in breach of the licence conditions, automatically invalidating any permissions that they may have to hunt on these lands and may be prosecuted under section 44."
Coillte's position is therefore very clear and requires no further comment or clarification. Enquiries have also been made of NPWS centrally and locally and responses are awaited. In the meanwhile advice to stalkers on Coillte forest property is to ensure that at all times they are in full compliance with the Wildlife Act 1976 (as amended) and with all relevant regulations and guidelines issued by Coillte Teoranta (including the precise terms of each Coillte licence or permit).