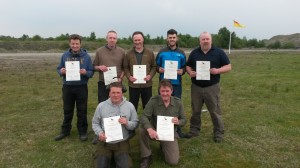 Successful candidates Karl Reynolds, Matthew Wilson, Michael Browne, Christopher Culleton, John Hennessy, Luke Byrne and Michael Mac Giolla Coda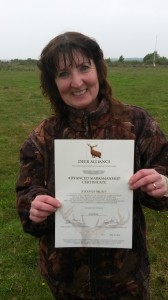 Johanna Tracey
the first (and so far, the only!) lady candidate to achieve Advanced Marksmanship status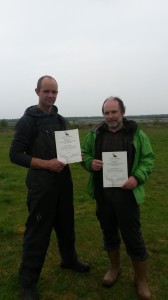 Michael Keegan & John Morehead                                                                                                                     (Click on pics to enlarge)
The first Deer Alliance Advanced Marksmanship Course (AMC) took place on Saturday 28th May 2016 at the Midlands National Shooting Grounds, Blue Ball, Tullamore, Co. Offaly. The AMC was run on a pilot basis with a view to developing the one-day course, which leads to a Certificate in Advanced Marksmanship awarded by the Deer Alliance as an add-on qualification to the hugely successful Hunter Competence Assessment Programme (HCAP) now in its eleventh year of operation and with close on 2700 individual candidates having participated in HCAP over that time.
The Course of Fire, designed to test the accuracy of candidates on the Deer Alliance deer target with fifteen rounds of deer-legal ammunition in three positions over 100 metres, was preceded by a presentation by Liam Nolan of Deer Alliance HCAP on topics ranging from gun safety and risk assessment, ballistics and choice of firearm, zeroing the rifle and taking the shot. Participation is limited to HCAP-Certified Candidates.
The Course of Fire proved challenging for many candidates and in the final analysis only ten candidates were successful in meeting the requirements of accuracy on the Range, thus establishing the AMC qualification as a true mark of achievement and testimony to the marksmanship of successful candidates.
The Deer Alliance intends to build on this pilot exercise to develop and enhance the Course and to present it for participation by HCAP-Certified Candidates on a regular basis over the coming years.
SUCCESSFUL CANDIDATES, NOW ALL HOLDERS OF THE DEER ALLIANCE ADVANCED MARKSMANSHIP CERTIFICATE:
Browne, Michael
Byrne, Luke
Culleton, Christopher
Hennessy, John
Keegan, Michael
Mac Giolla Coda, Michael
Morehead, John
Reynolds, Karl
Treacy, Johanna
Wilson, Matthew
Congratulations to all successful candidates and commiserations to others!
The Deer Alliance will also consider what arrangements will be possible for No-Shows, Deferrals and Fail Candidates who may wish to repeat the AMC Course of Fire with a view to achieving the AMC. Further announcements will be made here in due course.