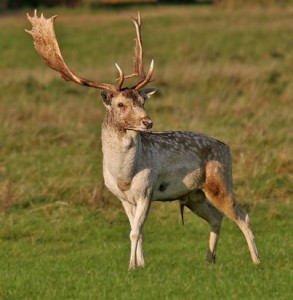 Fallow buck (click to enlarge)
A Training Workshop will take place in the Ionad Dara Community Centre, Goresbridge, Co. Kilkenny on Saturday 26th July 2014, from 10 a.m. to 4 p.m. (followed by HCAP MCQ at 4 p.m. at the same venue). Places must be booked in advance by text to 086 1927 845 or email to deeralliance@gmail.com, and payment €50.00 may be made on the day. The Ionad Dara Centre is situated beside the Catholic Church, Church Street, Goresbridge.
Participation in the Training Workshop is entirely optional and is offered as a support facility to HCAP candidates. Candidates are invited to bring their own lunch (also available locally) although tea and coffee will be available.
Speakers will include:
Wesley Atkinson, Eastern Regional Manager, National Parks & Wildlife Service
Barry Coad, Deer, Game & Sporting Rights Manager, Coillte Teoranta.
Liam M. Nolan, Deer Alliance.
Joe Murphy, Irish Trophy Commission and WDAI
Damien Hannigan, Wild Deer Association of Ireland.
The full range of topics associated with the HCAP MCQ will be covered.
Applications for the HCAP MCQ closed on Monday 21st July 2014. Applications for the Training Workshop will be accepted up to close of business on Friday 25th July 2014. A list of candidates eligible for the MCQ is set out in a separate posting on this blog.