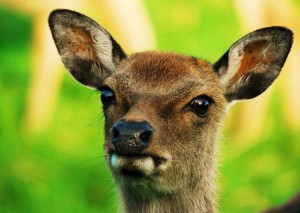 Young Sika female (click to enlarge)
The next scheduled HCAP MCQ will take place on Saturday 26th July 2014, at 4 p.m. at the Ionad Dara Community Centre, Goresbridge, Co. Kilkenny. Application and payment for HCAP assessment & certification (€100.00) can be made online through the Deer Alliance website (www.deeralliance.ie, "Online Applications").
The MCQ will be preceded on the same day by a Training Workshop running from 10 a.m. to 4 p.m. The Training Workshop is not obligatory but is considered by previous candidates to be invaluable in achieving success in the MCQ. It is subject to an additional cost of €50.00, payable on the day, but booking must be made in advance by email to deeralliance@gmail.com or by text to 086 1927 845.
The Deer Alliance Stalker Training Manual is available through the website, cost €35.00 inc. p. & p. Purchase of the Manual is not obligatory but again, considered invaluable as it contains all the relevant material for success in the MCQ, and much more besides.
The next scheduled HCAP Range Test will take place at the Midlands National Shooting Ground (Midlands Rifle Club), Blue Ball, Tullamore, Co. Offaly from 10 a.m. on Saturday 9th August 2014.