Neil Gatward, UKDTR at Kilcoran Lodge with GWHP Ross
(click pics to enlarge)
A large and attentive attendance enjoying an informative day
Kudos to the Wild Deer Association of Ireland and the Irish Deer Society for the jointly-organised visit to Tipperary by the UK Deer Track & Recovery team at the Kilcoran Lodge Hotel, Cahir, Co. Tipperary on Saturday 27th April 2019. Mixed weather, with blue skies fighting with occasional showers of hailstones, saw a large attendance treated to an informative series of indoor presentations on best practice in tracking and recovery of shot or injured deer by guest speakers Frank Byrne and Neil Gatward, including guidance on shot site analysis and assessment. This was followed by an excellent live demonstration, with Neil's German Pointer Ross in action on an 18-hour old trail through heavy cover and through many competing scents. It was good to see so many hunters taking an interest in dog work, an excellent support for the active stalker.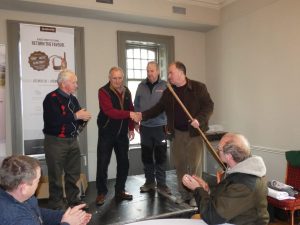 Tom O'Donnell, WDAI and John Manley, IDS, thank members of the UKDTR Team
on behalf of an appreciative audience.