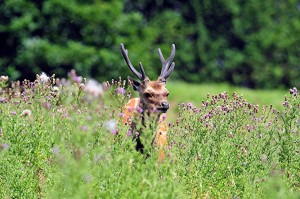 Sika stag in velvet.
Deer Alliance HCAP are in the process of concluding assessments which began on 11th March 2017 and which will conclude on 13th May 2017. Further dates will be considered after the latter date and details will be posted here on the News & Updates section of the Deer Alliance website as soon as they are finalised.
Applications made now will be processed in the normal manner, bearing in mind that the number of applications received will determine the necessity for holding assessments. Intending candidates should make application now to ensure so far as possible that further assessments can take place in June or July 2017.
Confirmation of HCAP Certification is now requested on Deer Hunting Licence Applications regardless of whether hunting is to take place on Coillte forest property or on private land. See previous posting on this subject.