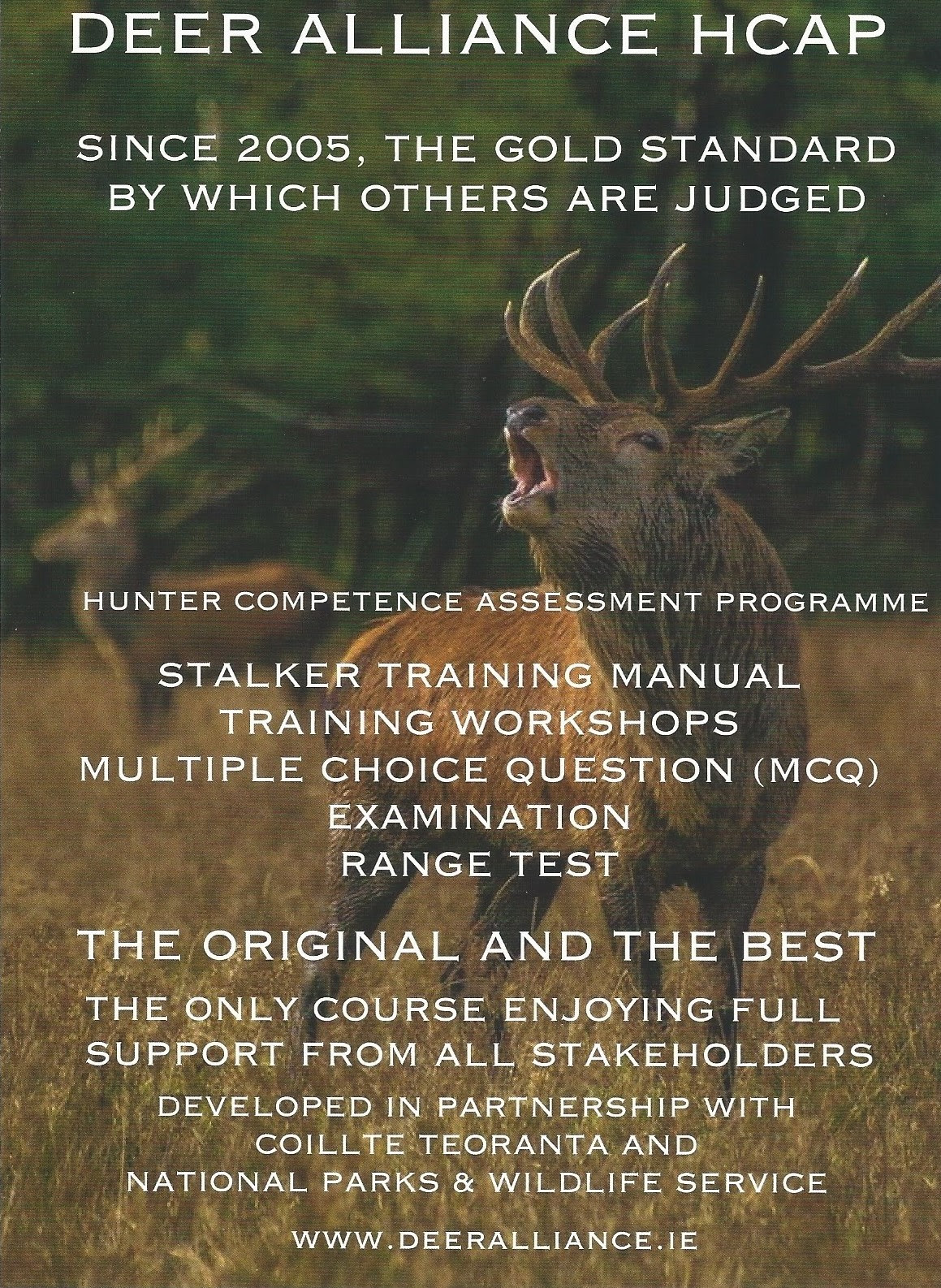 Applications are now open for a HCAP Training Workshop & MCQ taking place on Saturday 31st July 2021 at the Woodford Dolmen Hotel, Kilkenny Road, Carlow, R93 N207, 10.00 a.m. to 5.00 p.m. This will be followed by the supporting Range Test on Saturday 7th August 2021, to be held at the Midland Range, Blue Ball, Tullamore, Co. Offaly, R35 NC58.
Places will be limited to fifty candidates in compliance with Covid-related restrictions and early application is recommended.
This date is in addition to the event taking place on 17th July 2021, applications for which closed on 17th June 2021 and which is fully subscribed.
Applications can be made online from the Home Page on the Deer Alliance website, www.deeralliance.ie.
Members of IFA Countryside can avail of a special offer which is subsidised by IFA Farm Business Skillnet, for more information click HERE.
In line with the jointly-agreed Deer Alliance and NPWS Syllabus for training and certification in advance of mandatory certification for all first-time applicants for a Deer Hunting Licence, attendance at the Training Workshop is no longer optional but it must be attended by all candidates. The agreed Syllabus, approved by NPWS, requires that face-to-face training be at least one day long (excluding the Range Test). The MCQ itself will run from 4.00 p.m. (one hour).
Thirty hours self-study of the Deer Alliance Stalker Training Manual is required in advance of the MCQ, in line with the syllabus for training agreed with NPWS. The Manual is available for purchase through the Online Applications Section of the website, cost €35.00.
HCAP is the longest established training programme for Irish deer stalkers (established in 2003 and providing training, assessment and certification since 2005), developed in partnership with all key stakeholders including Coillte Teoranta, National Parks & Wildlife Service, An Garda Síochána, Irish Farmers' Association and deer bodies including the Irish Deer Society and the Wild Deer Association of Ireland. HCAP is approved by NPWS for the purpose of mandatory certification for first-time applicants for the Deer Hunting Licence (DHL), and accepted as evidence of competence for the purpose of firearms certificate applications by An Garda Síochána.
In particular, HCAP complies with the NPWS requirement that all interactive face-to-face training should occupy not less than one full day (excluding the Range Test, which is a test of marksmanship and not a training environment).
To date, over 3500 Irish hunters have been processed by HCAP.
LIST OF ELIGIBLE CANDIDATES, 31st JULY 2021
NOTE: This List includes a number of candidates who have been No-Shows at previous MCQs, without notice to Deer Alliance HCAP. These candidates cannot be carried forward indefinitely and may be de-listed as eligible if they miss another date without notice to Deer Alliance HCAP. In such cases they can only r-enter the process subject to the standard Repeat Fee of €50.00.
ARMSTRONG, Robert
BEHAN, Conor
BEWICK, Stuart
BYRNE, Tommy
CHURCH, Glynn
CONWAY, Kieran
COLE, Anthony
CORCORAN, Jamie
CORR, Francis
COTTER, Willie
CULBERT, Trevor
DEDAJ, Kristian
FOLEY, Ian
GRAHAM, Wesley
HANNON, Colm
HAMILL, Michael
HARMAN, Luke
HARVEY, Brendan
HARVEY, Stephen
HEALY, David
HENDERSON, Simon
HUTCHINSON, Robert
KELLY, Joe
KENDELLEN, Barry
KENEHAN, Ivan
KENEHAN, Mervyn
KENNY, Alan
LARKIN, Andrea
LAWLER, Ian
LAZZARI, Tojo
LEAMY, Maurice
LEAVY, Niall
MANNINGHAM-BULLER, Edward
McGRATH, Donie
MERRIGAN, Ian
MURPHY, Jam
MURPHY, Michael
MURPHY, Paddy
MURPHY, Patrick
O'CALLAGHAN, Michael
O'FLYNN, Declan
OLIVER, Mark
PAILLARD, Etienne
THOMPSON, Tom
REDMOND, Patrick
REGAN, Patrick
SCANLON, Callum
TREACHER, Nathan
QI Zhang
WALKER, Ian
YANG Li
This list will be updated as applications are received. Last update, 27.7.2021