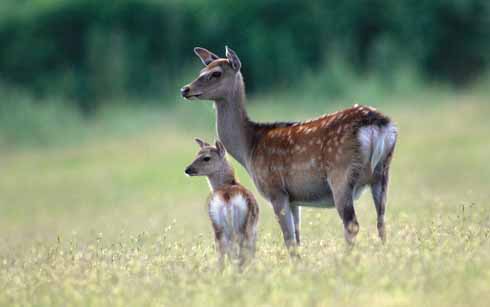 Applications are now open for the last of the 2021 Series of HCAP Training Workshops & MCQs, taking place on Saturday 18th September 2021 at the Woodford Dolmen Hotel, Kilkenny Road, Carlow, Co. Carlow, R93 N207, running from (start time) 10.00 a.m. to (end time) 5.00 p.m.
The supporting Range Test (Stage 2 of the HCAP Assessment and Certification process) will take place on the Midland Range, Blue Ball, Tullamore, Co. Offaly on Saturday 2nd October 2021.
APPLICATIONS FOR THIS EVENT ARE NOW CLOSED (AS OF 15.9.2021)
NPWS ACCREDITED & APPROVED
HCAP is approved by National Parks & Wildlife Service for the purposes of mandatory certification for all first-time applicants for a Deer Hunting Licence, which applies from next year 2022.
Application can be made online through the Online Applications of the website home page at www.deeralliance.ie, cost €165.00. Compliant with the syllabus agreed with NPWS, 30 hours self-study of the Deer Alliance Stalker Training Manual is required in advance of the Workshop and MCQ. The Manual can be purchased through the Online Applications section of the website, cost €35.00 including p. & p.
HCAP is the only such course available in Ireland developed in partnership with NPWS, Coillte, An Garda Síochána, IFA and the relevant deer organisations and has led the way in training and certification of licensed deer hunters in Ireland since it was commenced in 2005 following two years of careful development. Now in its eighteenth year of operation, over 3500 licensed deer hunters have participated in HCAP, all contributing to safe, humane and efficient control and management of wild deer throughout Ireland.
ELIGIBLE CANDIDATES
The following candidates are eligible for this Workshop & MCQ. This list includes candidates having deferred from previous dates in 2020 and 2021 due to clash of dates and for other reasons. Such candidates who miss this date without notice to Deer Alliance HCAP may be de-listed as eligible candidates and will have to re-enter the process as Repeat Candidates (Repeat Fee €50.00) if they wish to complete the training and certification process.
ARMSTRONG, Robert
BEWICK, Stuart
CHRISTIAN, Vadim
CORR, Francis
CULBERT, Trevor
FOLEY, Ian
GORSKI, Darius
HANNON, Colm
HAMILL, Michael
HARMAN, Luke
HARVEY, Brendan
HARVEY, Stephen
HENDERSON, Simon
HENRY/Michael
JORDAN, Brendan
JORDAN, Nickie
KAMINSKI, Marius
KELLY, Joe
KENDELLEN, Barry
KENNY, Alan
LAMBERT, John
LAWLER, Ian
LAWLOR, Jonah
LAZZARI, Tojo
MANNINGHAM-BULLER, Edward
McELDUFF, Kevin
MERRIGAN, Ian
MURPHY, Alan
MURPHY, James
MURPHY, Paddy
MURPHY, Patrick
PAILLARD, Etienne
THOMPSON, Tom
REDMOND, Patrick
SCANLON, Callum
SMITH, Gregory
SZULIK, Adam
WALKER, Ian
WHELAN, Sean
This list will be updated as applications are received. Last update 15.9.2021
TRAINING SYLLABUS
The following is the HCAP Training Syllabus agreed with NPWS for purposes of mandatory certification for first-time applicants for the DHL, effective from 2022.
BASIC DEER BIOLOGY
• Species recognition, species distribution (Red, Sika, Fallow, Muntjac)
• Species habits & habitat (Red, Sika, Fallow, Muntjac)
• Life cycle of deer
• The Rut
• Pregnancy and birth
• Vocalisation, hearing, powers of scent
• Antler growth
• Aging deer & tooth eruption and wear
• Coat change and colouration
• Scent glands – identification, use and purpose
PRINCIPLES OF DEER MANAGEMENT
• Aims and objectives
• Current problems facing deer in Ireland
• Methods of population assessment
• Breeding capacity and size of cull
• Planning the cull; cull selection
• Shooting calendar & shooting plan
• Record keeping
• PR
DEER IMPACTS
• Impacts of Deer on forestry, Agriculture and Nature Conservation
• Habitats – damage recognition and damage limitation.
DEER HUNTING & THE LAW
• Wildlife Act 1976 (as amended)
• Relevant Regulations and SIs under the Wildlife Act
• Relevant Sections of Birds and Natural Habitats Regulations
• Coillte licence requirements & regulations
• Firearms legislation 1925 – 2000
• Control of Dogs Act 1986
• Occupiers Liability Act 1995
FIREARMS SAFETY AND OTHER HEALTH & SAFETY ISSUES
• Safe storage and transportation of firearms and ammunition including
legal requirements and Hunting Area Risk Assessment
• Background to shot
• Loading & unloading
• Negotiating obstacles
• Barrel obstructions & misfires
• Shooting positions
• Non-Firearms risks, knives, dragging carcasses, terrain issues, weather
FIREARMS, BALLISTICS AND ZEROING
• Choice of rifle and ammunition
• Ballistics (internal, external, terminal)
• Rifle Care, cleaning and maintenance
• 'Scope mounts, slings, bipods etc.
• Zeroing your rifle
CARCASS HANDLING & DISEASE RECOGNITION
• Bleeding & evisceration
• Carcass examination & disease recognition including Anthrax,
Bluetongue, Bovine Tuberculosis, Brucellosis, Foot & Mouth Disease,
Warble Fly Infestation
• Notifiable diseases
• Game Meat Directive and other food meat legislation relevant to deer
• Carcass preparation, venison joints etc.
DEER STALKING AIDS AND TECHNIQUES
• Use of High Seat
• Binoculars and other optics
• Fieldcraft
• Clothing
• Knives
• Use of Dogs
• Aiming Points
• Reaction to the shot
• Dealing with a wounded animal
• Sporting rights etc.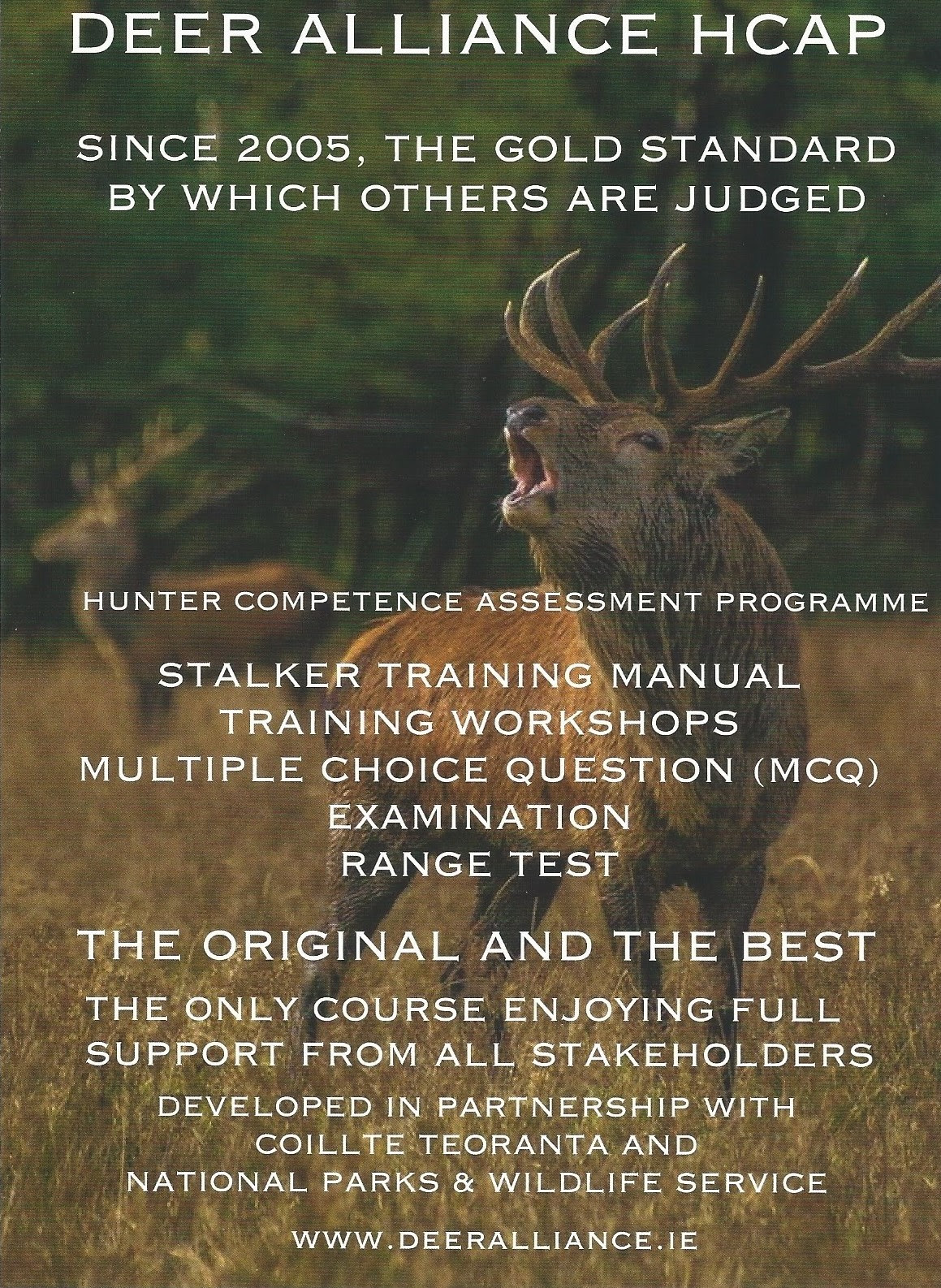 HCAP HUNTER COMPETENCE ASSESSMENT PROGRAMME
IS A REGISTERED TRADEMARK, REGISTRATION NUMBER 263335.
DEER ALLIANCE HCAP IS A REGISTERED BUSINESS NAME, REGISTRATION NUMBER 619892