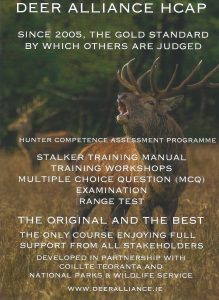 (click to enlarge)
The next HCAP MCQ in the 2019 Series will take place on Saturday 31st August 2019 (3.30 p.m.) in the Ionad Dara Community Centre, Chapel Street, Goresbridge, Co. Kilkenny (eircode R95 D654). The date for the Range Test for successful candidates from this MCQ remains to be confirmed (provisionally fixed for Saturday 14th September 2019) and will be confirmed here in due course. All Range Tests currently take place at the Midland National Shooting Ground, Blue Ball, Tullamore, Co. Offaly.
Candidates unable to participate on 31st August 2019 will be automatically carried forward to the next scheduled MCQ, the date of which will be fixed and notified here in due course, as soon as confirmed.
ELIGIBLE CANDIDATES:
Agavriloaie, Sorin, 2019/0044
Bishti, Karl, 2019/0031
Bockariov, Pavel, 2019/0065
Boland, Glenn, 2019/0064
Christy, Barry, 2019/0067
Delaney, Liam, 2017/0175
Edge, Robert, 2018/0104
Ferron, Thomas, 2019/0068
Flaherty, James, 2018/0051
Forde, Sean, 2019/0060
Hunt, William, 2019/0063
Hurley, Eric, 2019/0062
Hutchinson, Robert, 2009/0108
Mackevicius, Arunas, 2018/0127
Magee, Stephen, 2019/0043
McCann, Donal, 2019/61
O'Keeffe, Robert, 2019/0058
Scholz, Felix, 2019/0059
Tice, Patrick, 2018/0007
Voitukovic, Edvard, 2019/0066
White, Conor, 2019/0057
(This list will be updated as applications are received)
Subject to demand, the MCQ will be supported by an optional Training Workshop, running from 10.00 a.m. to 3.00 p.m. on the same day as the MCQ (same venue). Bookings for the Workshop can be made by text message to 086 1927 845 or by email to deeralliance@gmail.com. Payment €50.00 is to be made on the day.
Although optional for candidates, it is recommended for all. The Workshop is broken down into a number of modules, covering species recognition, habits & habitat, practical deer management, deer & forestry, recognition of disease in wild shot deer, fieldcraft, safe use and security of firearms, the law concerning hunting of wild deer and best-practice procedures in all aspects of hunting deer in Ireland.
Candidates are expected to prepare fully for the MCQ. Thirty hours of self-study is recommended in order to prepare fully.
The Deer Alliance Stalker Training Manual is an optional purchase and can be purchased online through the Deer Alliance website, cost €35.00 including p. & p.
The Deer Alliance Hunter Competence Assessment Programme (HCAP) is the only training course, assessment and certification programme developed in partnership with Coillte Teoranta, National Parks & Wildlife Service, Forest Service, Garda Siochana, Irish Farmers' Association and the different national deer organisations (including Irish Deer Society and the Wild Deer Association of Ireland). HCAP is mandatory for all licensed hunters hunting on Coillte forest property, and in line with a Ministerial undertaking to the Irish Deer Management Forum, will shortly be mandatory for all applicants for the annual Deer Hunting Licence (DHL), including persons hunting on private land. HCAP is the gold standard in training and assessment and the standard by which other courses are judged.