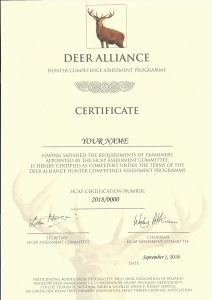 HCAP Certificate. Click to enlarge image
Successful Candidates in the Deer Alliance Hunter Competence Assessment Programme (HCAP) each receive individual signed and sealed Certificates together with a wallet-size HCAP-Certified Hunter ID Card with individual name and number, and a HCAP badge. The HCAP badge is available only to HCAP-Certified Candidates and is not generally available.
The wallet ID card and Badge have been available only since 2017. Candidates qualifying in previous years can obtain theirs by sending a stamped, self-addressed envelope to Deer Alliance, PO Box 1, Borris, Co. Carlow.
Replacement Certificates can be obtained by emailing Candidate name, HCAP number and current address to deeralliance@gmail.com (or by text to 086 1927 845).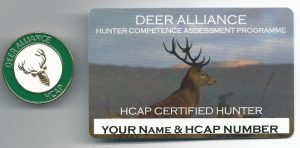 HCAP ID Card and badge. Click to enlarge image