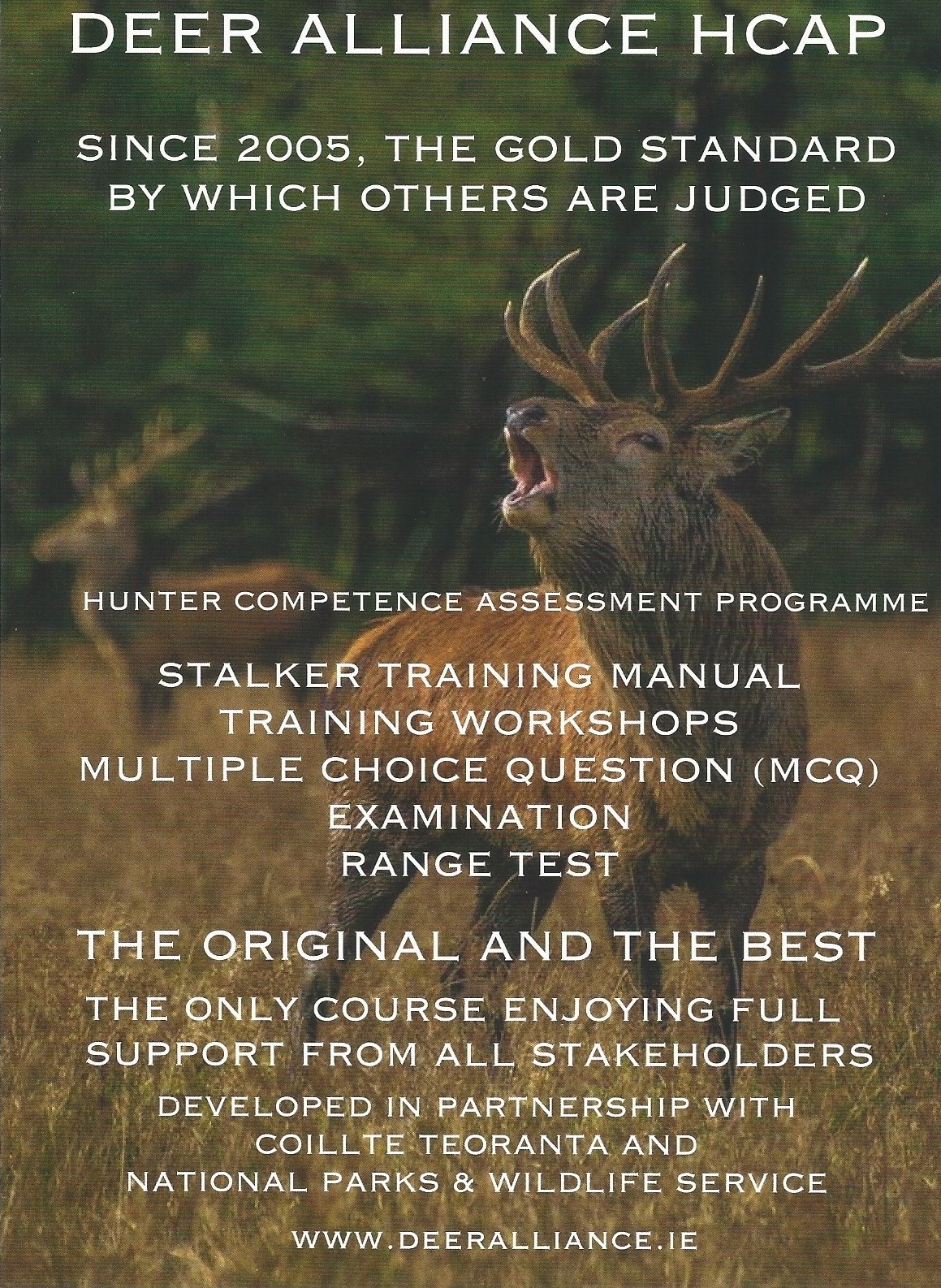 Deer Alliance HCAP will commence the 2023 Series of Workshops, MCQs and Range Tests on Saturday 4th March 2023, at the Woodford Dolmen Hotel, Kilkenny Road, Carlow, Co. Carlow, R93 N207 (10.00 a.m. to 5.00 p.m.). The supporting Range Test will be held Saturday 18th March 2023 (Bank Holiday Weekend) at the Midland Range, Blue Ball, Tullamore, Co. Offaly, R35 NC58.
Applications are now open for this first event in the 2023 Series. Application can be made online through the Deer Alliance website, www.deeralliance.ie, with payment through PayPal, using any valid debit card or credit card. Application can also be made in hard copy, by post, to the address shown on the current downloadable application form.
The cost of HCAP (Training Workshop, MCQ, Range Test and Certification) is unchanged and remains at €165.00.
In preparation for HCAP, candidates are recommended to study the Deer Alliance Stalker Training Manual thoroughly in advance. The Manual is available for purchase through the Online Applications section of the website, costing €35.00 inc. p. & p.
Members of IFA Countryside can avail of a special subsidised price of just €120.00 (to include Workshop, MCQ, Range Test & certification), membership enquiries to 0818 924 982
Certification is now mandatory for all first-time applicants for a Deer Hunting Licence (DHL). HCAP is the only training programme in Ireland developed in partnership with Coillte Teoranta, National Parks & Wildlife Service, An Garda Síochána and all principal deer organisations. HCAP enters its twentieth year of operation in 2023 and to date approximately 3600 licensed deer hunters have participated in the programme. Enquiries by email to deeralliance@gmail.com or by 'phone to 086 1927 845 (office hours).
CURRENTLY ELIGIBLE CANDIDATES (NAME & HCAP NUMBER):
BOLAND, Peter, 2023/0007
BRADBURY, Ross, 2023/0009
BURNS, Niall, 2022/139
BYRNE, Brendan, 2023/0023
CARROLL, Kyran, 2023/0022
COLCLOUGH, Greg, 2023/0027
FLYNN, Declan, 2022/0113
FOLEY, Ryan, 2023/0015
FURNESS, Mark, 2022/0141
GOLAND, Patrick, 2023/0016
HAYES, Martin, 2023/0012
HOARE. Shane, 2023/0013
KEANE, Manus, 2023/0006
KELLY, Brian, 2023/0030
LUNG, Vasile, 2023/0005
MALONE, Tony, 2023/0021
MALONEY, John, 2023/0018
MAXWELL, David, 2022/140
McLOUGHLIN, Cian, 2023/0011
MONAHAN, Leslie, 2023/0010
MORRIS, Carl, 2023/0008
NOBLETT, Ciaran 2023/0031
O'BRIEN, Jason, 2022/0098
O'CONNOR, Liam, 2023/0029
O'CONNOR, Tom, 2022/0106
O'DONOVAN, Conor, 2023/0002
O'RIORDAN, Adam, 2023/0001
PATTON, Shane, 2023/0004
PICKARD, Aaron, 2023/0024
PICKARD, John, 2023/0025
RUXTON, Enda, 2023/0019
SCALES, Michael, 2022/0142
SMITH, David, 2023/0020
SPAKAUSKAS, Laurynas, 2022/0138
STACK, Stephen, 2023/0028
STUART, Joseph, 2023/0003
STAFFORD (Jnr.), Sean, 2013/0014
THOMSEN, Birthe, 2022/0088
TAYLOR, John, 2023/0026
WALSH, John, 2023/0017
Candidates are requested to make a permanent note of their individual HCAP Number for use in any later communication with Deer Alliance HCAP.
This list of eligible candidates will be updated as applications are received. Last update, 3.2.2023