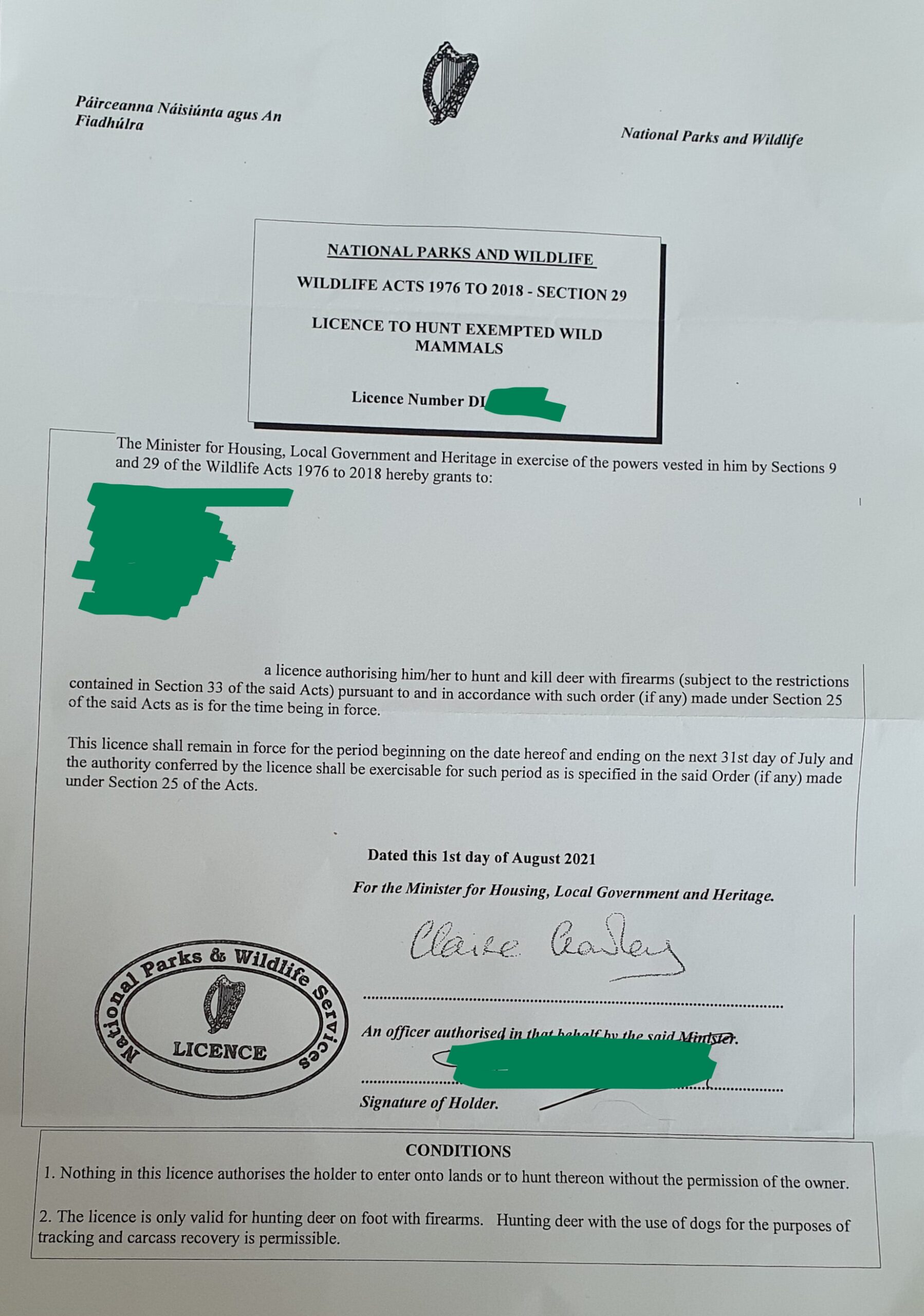 The Wildlife Licensing Unit (WLU) of National Parks & Wildlife Service have issued an appeal to stakeholders and potential DHL applicants not to delay in submitting their applications but to get them in NOW to avoid a backlog building up over July and August, which could lead to delays in the issue of licences beyond the Season start date of 1st September.
The WLU have to date issued approximately 3000 licences for the Season 2021-2022, which would leave roughly another 2500 to 3000 applications outstanding. They currently have the capacity to process licences received in an efficient and timely manner. However, if they were to receive all outstanding applications at the last minute in August then they cannot guarantee that appropriate level of customer service.
Hunters intending to make application for DHLs for the coming season are strongly advised not to delay but to get their applications in as soon as possible. The application Form is available on the NPWS website and applications by email are preferred.
Click HERE for a link to the relevant section of the NPWS website.
The need for written landowner permission has been waived for this year for hunters having previously held a licence.
For persons hunting on Coillte forest property there should be no delay in obtaining Coillte Permits for Licensees or Nominated Stalkers as Coillte have waived licence fees for the coming year 2021-2022 where licence holders have met their obligations for the season 2020-2021, provided insurance is in place through to the end of the licence period at end February 2022.
Note that DHLs issued now will be post-dated to 1st August 2021 but DO NOT confer any authority to hunt deer during the Closed Season 1st March to 31st August. A Section 42 licence is required to hunt deer during the Closed Season except for certain narrow circumstances provided for under the Wildlife Act 1976 (as amended).
So hunters, don't delay, get your application in as soon as possible!