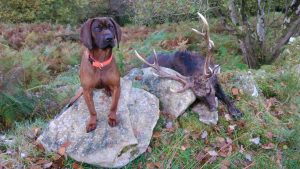 Bavarian Mountain Hound (click to enlarge)
The Irish Deer Society and the Wild Deer Association of Ireland jointly are pleased to announce that a Team from UK Deer Track and Recovery (UKDTR) will be in Tipperary this coming weekend to demonstrate effective methods of tracking and recovering injured and lost deer.
Date: Saturday 27th April 2019
Time: 09:30 am sharp
Venue: Kilcoran Lodge Hotel, Cahir, Co Tipperary
Cost: €10 per person
Guest speakers Frank Byrne and Neil Gatward will discuss the best practice in the event of a recovery.
SCHEDULE
• Introduction to UKDTR and tracking deer.
• Break for lunch (not included in the cost)
• Shot site examination
• Various shot sites, what to look for! Shot sites are located in the wood adjacent to the hotel
• Finishing the afternoon with a free BBQ including tea and coffee.
This event is open to everyone interested in the subject – to register, please text Tracking along with your name to 087 6878228
This is a joint venture between The Wild Deer Association Of Ireland and The Irish Deer Society to promote the recovery of injured deer.