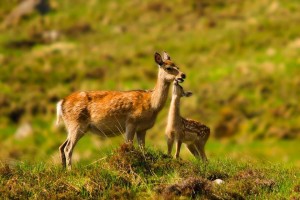 Deer enthusiasts throughout Ireland, including HCAP-Certified hunters, will be aware of current controversy about the prevalence of bovine tuberculosis (bTB) in wild deer, arising especially from field research carried out by the Department of Agriculture, Food & the Marine in the North County Wicklow area (Calary, Co. Wicklow). Constituent bodies of the Deer Alliance, including the Irish Deer Society, Wild Deer Association of Ireland and Wicklow Deer Group are concerned to see over-reaction to research findings, including wildly inaccurate media reporting, based on limited and specific circumstances of geography, with findings being extrapolated nationally by the media and vested interests even before the research has been fully completed and analysed. Deer interests are especially concerned to avoid demonization of wild deer based on faulty interpretation of research These bodies look to the recently-established Irish Deer Management Forum for rational discussion, analysis and direction, directly or through their representatives on the Forum and reserve their position pending outcome of that process, as does the Deer Alliance.
That said, it is well established that wild deer can and do contract bTB, and can and do transmit it to cattle (from which they arguably contract it in the first place), as can other mammals and wildlife, including badgers, which have been identified as showing a very significantly higher prevalence and incidence of bTB, than either deer or cattle. For this reason, it behoves hunters to be aware of the problem and to learn how to recognise the disease, and when they encounter it in deer dead or alive, bring it to the attention of the authorities. The disease should be looked for in the retropharyngeal lymph nodes, the mediastinal lymph nodes, the lung tissue, the liver tissue and in the mesenteric lymph nodes. Hunters need to know exactly where to look – further information including information on how to locate and examine likely signs of the disease, is contained in the Deer Alliance Stalker Training Manual but can also be easily researched on the internet and elsewhere. Bovine tuberculosis is a notifiable disease and it must by law be notified to the nearest District Veterinary Office of the Department of Agriculture as soon as it is identified in deer or any other mammal.
Clinical Signs and Pathology of bTB in deer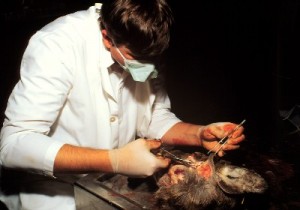 Pic 1, Performing necropsy on wild deer head.
Bovine tuberculosis is a chronic disease, and small lesions in wild deer often are not readily recognized. Abscesses may not be visible to hunters when field dressing wild deer. Indeed, most infected deer appear healthy. Affected animals may have yellow to tan, pea-sized nodules in the chest cavity or lungs. Lymph nodes of the head and neck can be swollen and necrotic.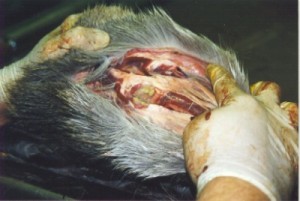 Pic 2, Bovine TB abscess in submandibular lymph node in wild deer head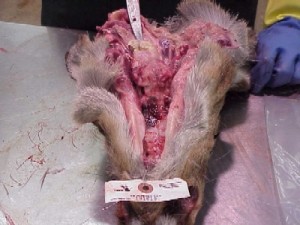 Pic 3, Bovine TB abscess in medial retropharyngeal  lymph node in wild deer head.
Captive cervids with tuberculosis often appear healthy because infection is localized in one or a few lymph nodes, usually in the head or thorax. Tuberculosis is a chronic, progressive disease that can cause gradual debilitation and is manifest as emaciation, depression, and intolerance to exercise. Because infection often involves the lungs, coughing, nasal discharges, and difficulty breathing can occur in severe cases. In some instances, superficial lymph nodes in the neck will develop large abscesses that may rupture and drain through the skin.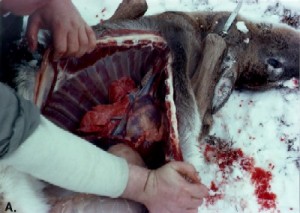 Pic 4, Normal wild deer chest cavity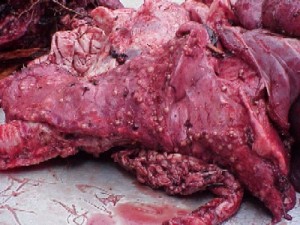 Pic 5, Disseminated bovine tuberculosis lesions seen with chronic infection, throughout lungs of a wild deer.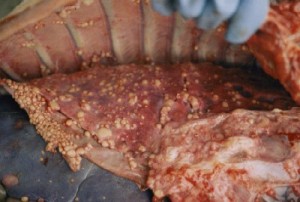 Pic 6, Disseminated bovine tuberculosis lesions seen with chronic infection, throughout lungs and on ribs of a wild deer.
At necropsy, tuberculosis lesions are variable in appearance and size. Subclinically infected animals may have one or a few small necrotic nodules that usually are associated with the lymph nodes of the head and neck or the lungs. More severely infected cervids can have multiple pea-sized nodules or large cheesy or pus-filled masses in the same areas. The classical tubercle, which is firm, white or pale yellow, and gritty when cut, does occur in cervids, but many M. bovis lesions in these animals are filled with pus. In cervids, tuberculosis lesions are most often seen in the lymph nodes of the head and neck or in lung tissue; however, lesions can occur throughout the chest cavity, under the skin of the chest, and in the abdominal cavity as well.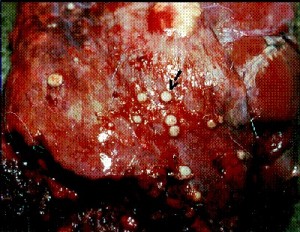 Pic 7, Lesions (also called tubercles or abscesses) on the surface of a wild deer lung.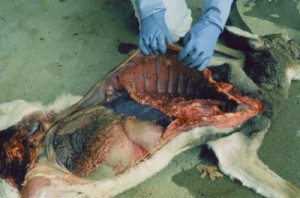 Pic 8, Disseminated bovine tuberculosis lesions seen with chronic infection.