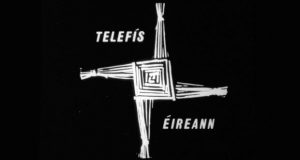 RTE LOGO IN 1962. Transmitted in Black & White only.
The logo was based on the St. Brigid Cross
In 1969 Ireland's deer were an unprotected species of wildlife and at the time we had the lowest population density of any European country, with an estimated total population, all species, of 7000-10000. There were only a handful of hunters, who needed no licence and who had relatively easy access to full-bore rifles before the clampdown on such firearms in 1972.
The Irish Deer Society was campaigning strongly for better protection for deer and they enjoyed limited success, with a preservation order on red deer in Co. Wicklow. Deer finally achieved full protection with the advent of the Wildlife Act in 1976.
On 19th February 1969 RTE carried a "Newsbeat" interview with the late Andy Morrissey, Chairman of the "Deer Preservation Society" aka Irish Deer Society, which you can access here.
Another historic broadcast on the subject of staghunting with hounds (Ward Union Hunt) was carried on 3rd May 1962 and can be  accessed here.