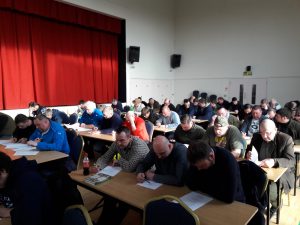 Study in concentration. Candidates undertaking the HCAP MCQ on 10th March 2018 (Click to enlarge)
The next HCAP MCQ in the 2018 Series will take place on Saturday 5th May 2018 at 4.00 p.m. (note change of date) in the Ionad Dara Community Centre, Goresbridge, Co. Kilkenny. Subject to confirmation, the Range Test for successful candidates from this MCQ will take place on Saturday 26th May 2018 at the Midland National Shooting Ground, Blue Ball, Tullamore, Co. Offaly from 10.00 a.m. on the day in question.
Candidates are requested to make a permanent note of their individual HCAP Number (eight digits).
Cashman, Vincent, 2018/0006
Delaney, Liam, 2017/0175
Flaherty, James, 2018/0051
Flynn, David, 2018/0053
Forde, Desmond, 2017/0177
Gallagher, Thomas, 2018/0034
Galvin, Emmet, 2018/0005
Graham, David, 2018/0028
Hegarty, Michael, 2017/0186
Hickey, Gary, 2017/0176
Hourigan, Gerard, 2017/0187
Hyland, Enda, 2017/0181
Ivanoff, Eftim, 2018/0050
Joyce, James, 2017/0183
Lane, Michael, 2017/0081
Lennon, Stephen, 2018/0052
Macari, Constantino, 2018/0054
McCloskey, Mark, 2018/0003
McManus, Rory, 2017/0184
Mullen, Philip, 2017/0180
Murphy, Tyrone, 2017/0198
O'Hanlon, Chris, 2017/191
O'Mahony, Killian, 2017/0200
Smyth, Gary, 2017/0182
Tice, Patrick, 2018/0007
TRAINING WORKSHOP
The MCQ will be preceded by an OPTIONAL Training Workshop. Participation is not obligatory. The Workshop will run from 10.00 a.m. to 3.30 p.m. approximately on the same day as the MCQ, at the same venue, and is subject to an additional cost of €50.00, payable on the day. Booking can be made by email to deeralliance@gmail.com or by text to 086 1927 845 in the week prior to the MCQ.
STALKER TRAINING MANUAL
The Deer Alliance Stalker Training Manual (optional purchase) can be purchased through the Online Applications section of the website, cost €35.00 including p. & p.
This post will be updated weekly in accordance with applications received.