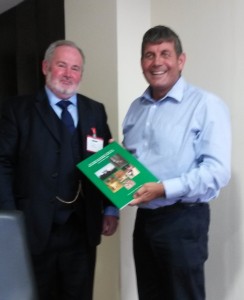 Liam Nolan of the Deer Alliance presented Minister of State at the Department of Agriculture, Food & the Marine Andrew Doyle TD with a copy of the Deer Alliance Stalker Training Manual when members of the Irish Deer Management Forum met with the Minister on 27th July 2016 (photograph above, click to enlarge).
The meeting was held at the request of the Minister and was attended by the Convenors of the different Working Groups of the Forum. Liam Nolan is Convenor of the Forum's Working Group on Communications, Best Practice and Training. The Forum has formally submitted a Recommendation to government on mandatory training, assessment and certification for all hunters as a pre-requisite before the granting of a Deer Hunting Licence. This Recommendation was recently adopted unanimously by all stakeholder representatives on the Forum and is now under consideration by the Minister for Arts, Heritage, the Gaeltacht & Rural Affairs and the Minister for Agriculture, Food & the Marine.
The Recommendation calls for Certification of Competency from an accredited source in knowledge of wild deer species, disease recognition, management, culling and safe methods of control, together with marksmanship and safe usage and storage of firearms, as a mandatory requirement before the grant of a licence to hunt wild deer; and that mandatory certification be introduced on a phased basis over a five year period commencing on the 1st day of January 2018 for existing holders of deer hunting licences, and with immediate effect from the same date for all new applicants for deer hunting licences.
It is intended that Certification of Competency be based on the Hunter Competence Assessment Programme (HCAP) model, to include extended training in addition to assessment and certification. HCAP is currently a requirement for hunters wishing to hunt deer on Coillte forest property. Approximately half of all deer hunters in Ireland have participated in HCAP since inception in 2005.